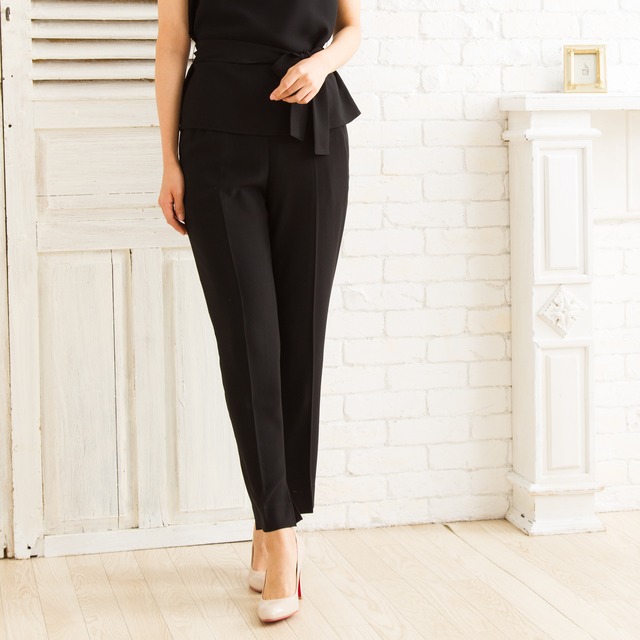 フレンチスリーブパンツセットアップ【ブラック】
¥27,600 tax included
the last one
*Earliest delivery date is 10/11(Wed) (may require more days depending on delivery address).
Japan domestic shipping fees for purchases over ¥15,000 will be free.
Shipping fee is not included. More information.
【商品詳細】
デザインについて
◎なめらかで落ち感のあるフレンチスリーブセットアップ
◎上下セパレートでのコーディネートも可能
◎ウエストのリボンは取り外し可能
◎二の腕をすっきりと魅せてくれるフレンチスリーブデザイン
◎リボンなしのシンプルなコーディネートにもお使いいただける着回し力の高い
◎ボートネックの丸いデコルテラインが抜け感のある上品でフェミニンな印象に
◎ジャケットやカーディガンなどと合わせても袖がかさばらず、スマートに着用可能
◎インナーとしてお使いいただけるキャミソール付き

◎パンツは裏地付き、サイドポケットあり
◎センタープレスパンツはスリット入りでほど良い肌見せで抜け間を演出
◎ハイウエストデザインでお腹周りを圧迫させず、ウエストはサイドがゴム仕様なので、リラックスしてご着用いただけます

機能性について
◎パンツはウエストがゴム仕様なので、リラックスして着用可能
◎パンツは美脚を実現させてくれるセンタープレスのラインで細見え効果が期待できます
◎シワになりにくい素材
◎ご自宅でお洗濯可能

生地について
◎落ち感のある素材が上品スマートな印象に仕上がります
◎テロテロで高級感のある肌触りの良い着心地
◎上質で安心高品質な日本製の丁寧な縫製
◎生産国:日本
◎原産国:日本

【商品名】フレンチスリーブパンツセットアップ
【カラー】ブラック
【生産国】日本製100%
【生地原産国】日本
【機能】ホームクリーニング可能
【付属品】キャミソール付き
【素材】ポリエステル100%
【サイズ】フリーサイズ
【トップスのサイズ】着丈 57cm / 肩幅 52cm / バスト 47cm / 裾幅 50cm / 袖丈 15cm / 裄丈 29cm
【ボトムスのサイズ】着丈 96cm / ウエスト 32~40cm(最大 40cmまでウエストゴムが伸びます) / ヒップ 48cm / 股上 31cm / 股下 68cm / 裾幅 14cm / スリット 9.5cm

【トップスの素材】
裏地:なし(インナーキャミソール付き)
生地の厚さ:薄手
透け感:ややあり
伸縮性:ややあり

【ボトムスの素材】
裏地:あり
生地の厚さ:薄手
透け感:なし
伸縮性:ややあり
Add to Like via app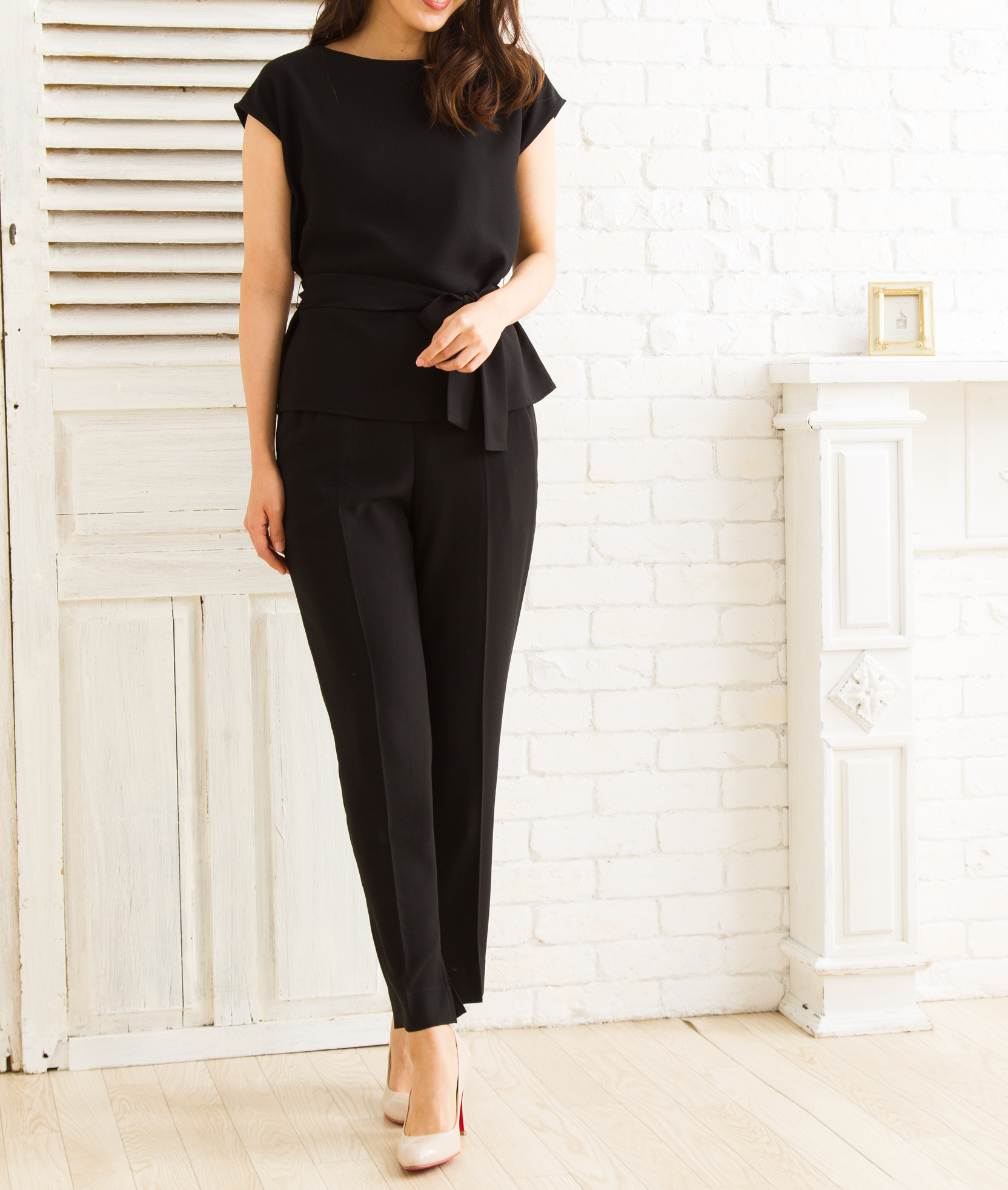 【Model】170cm/ B74cm/ W60cm/ H86cm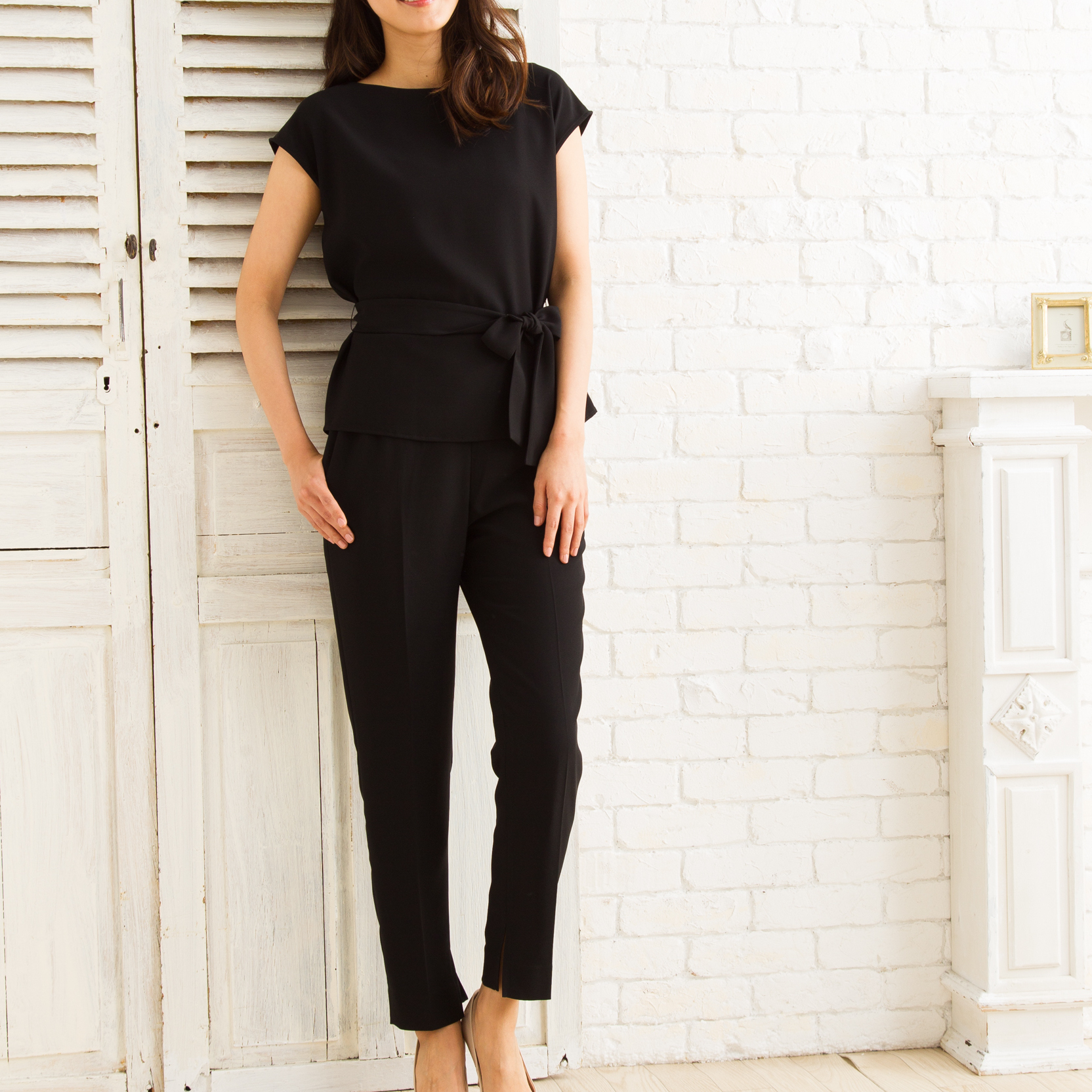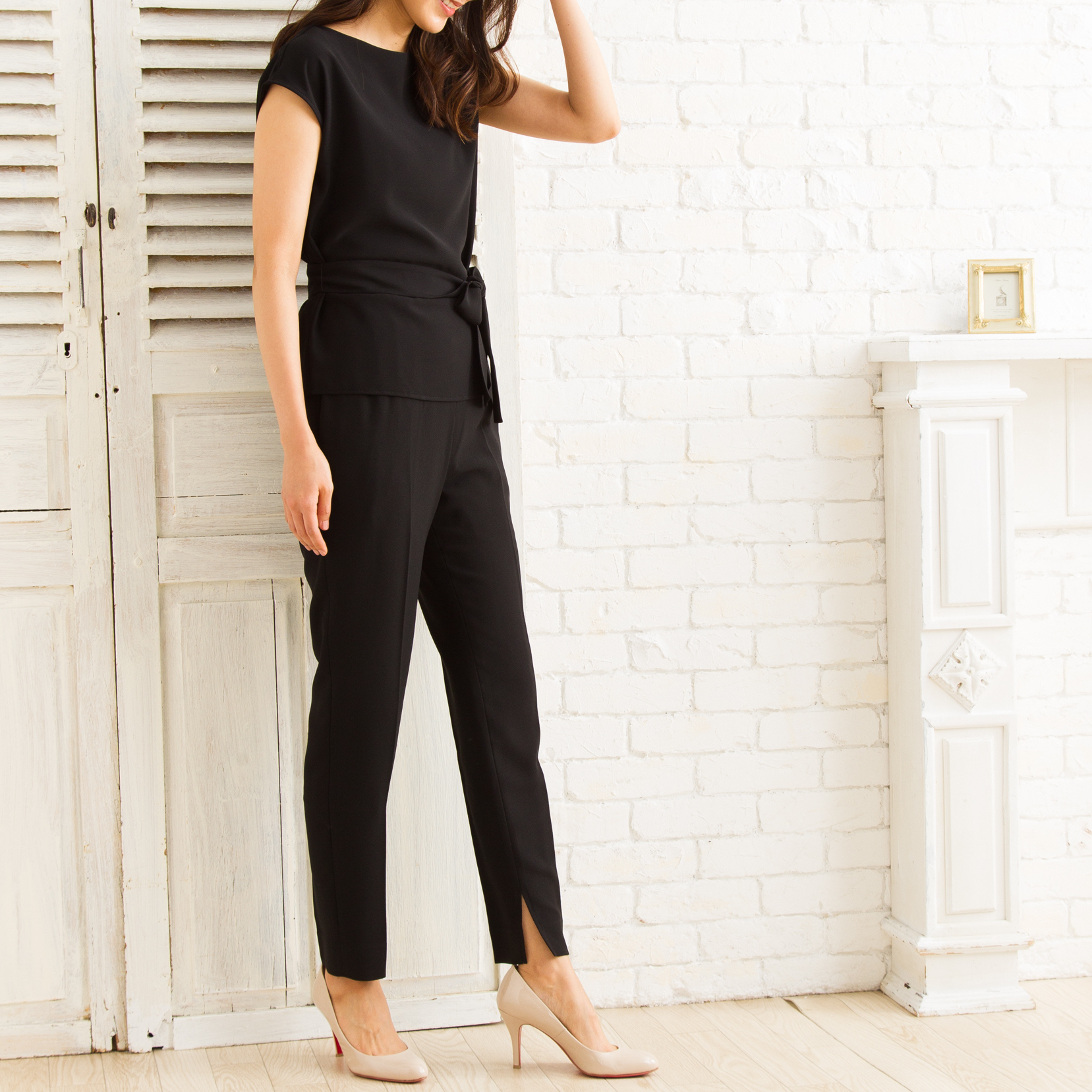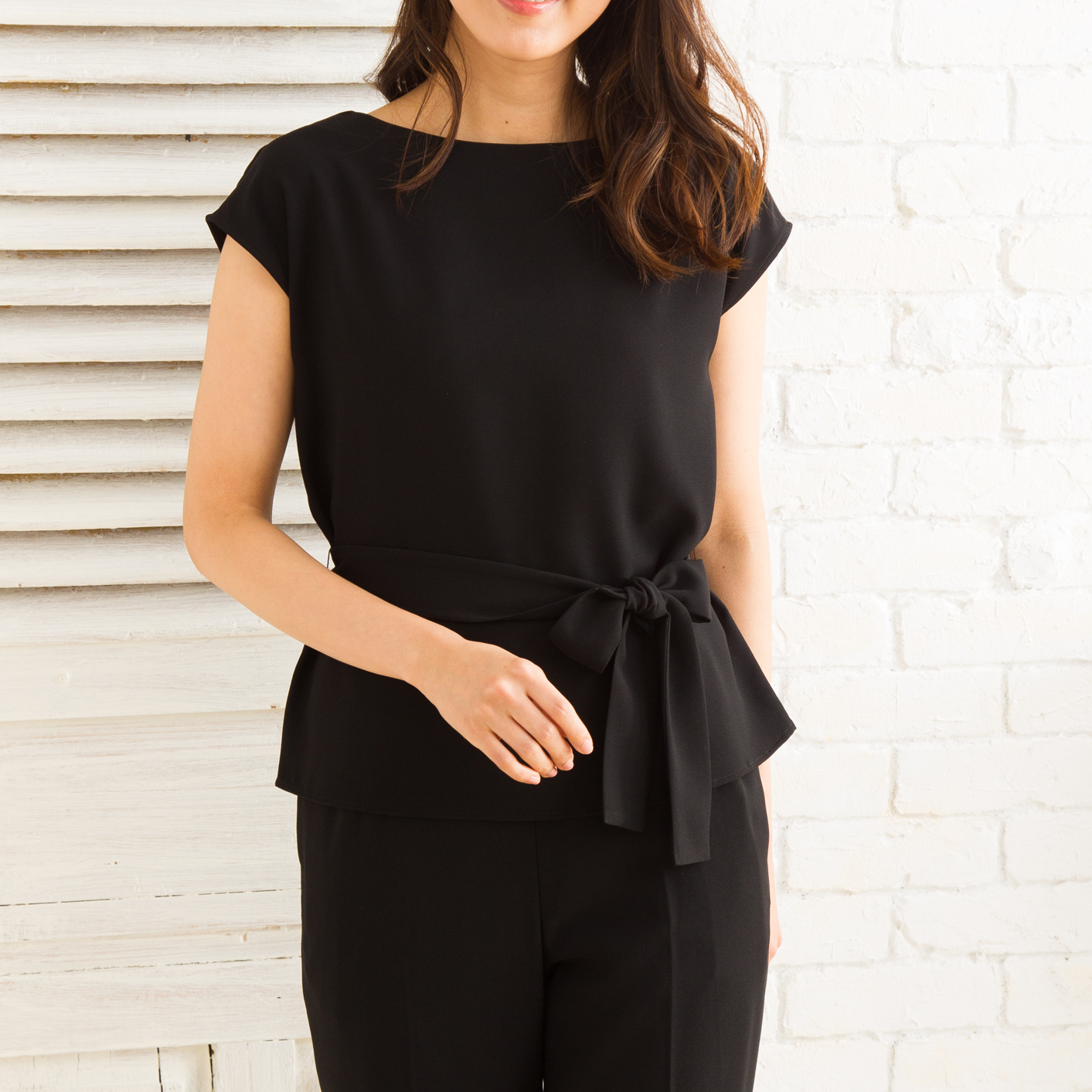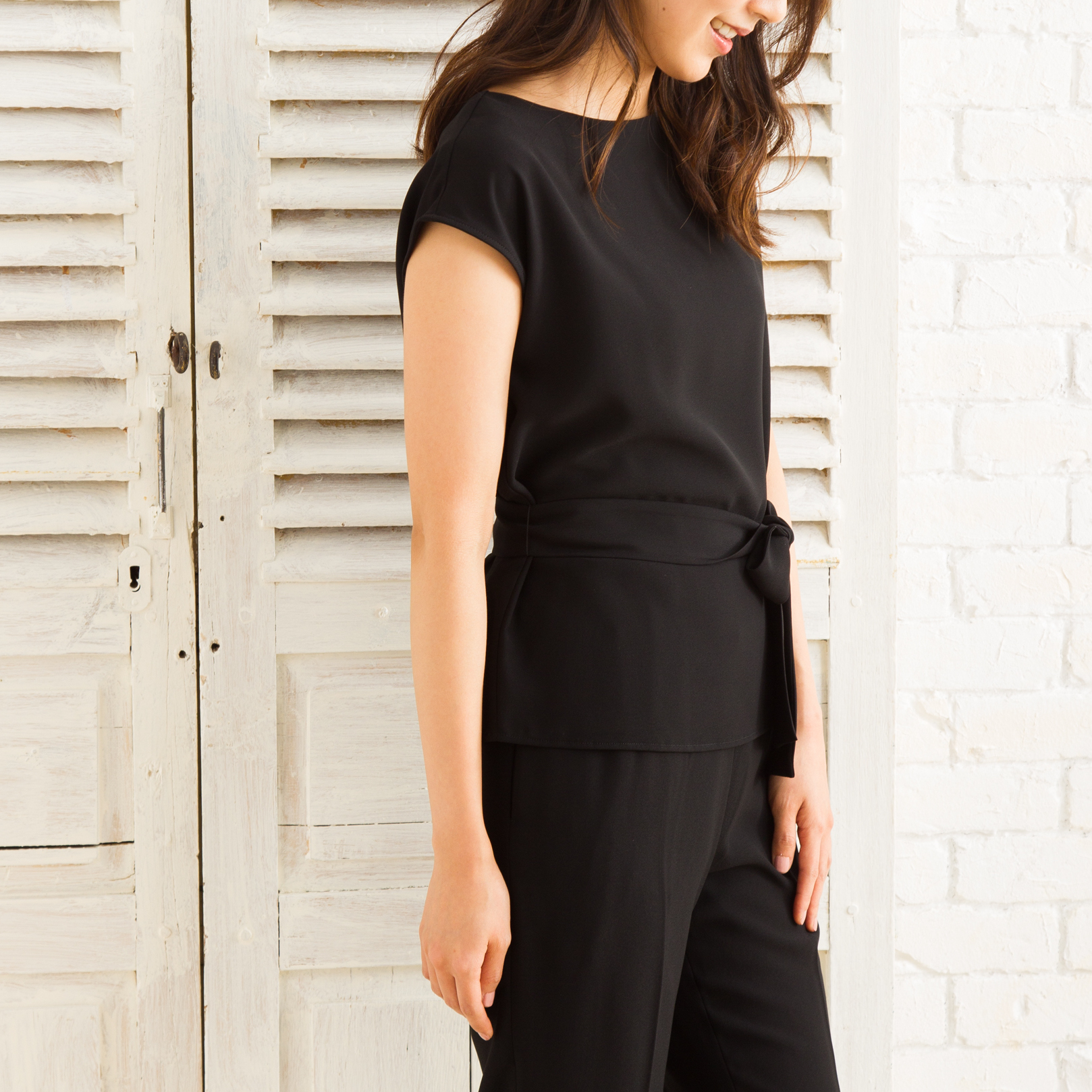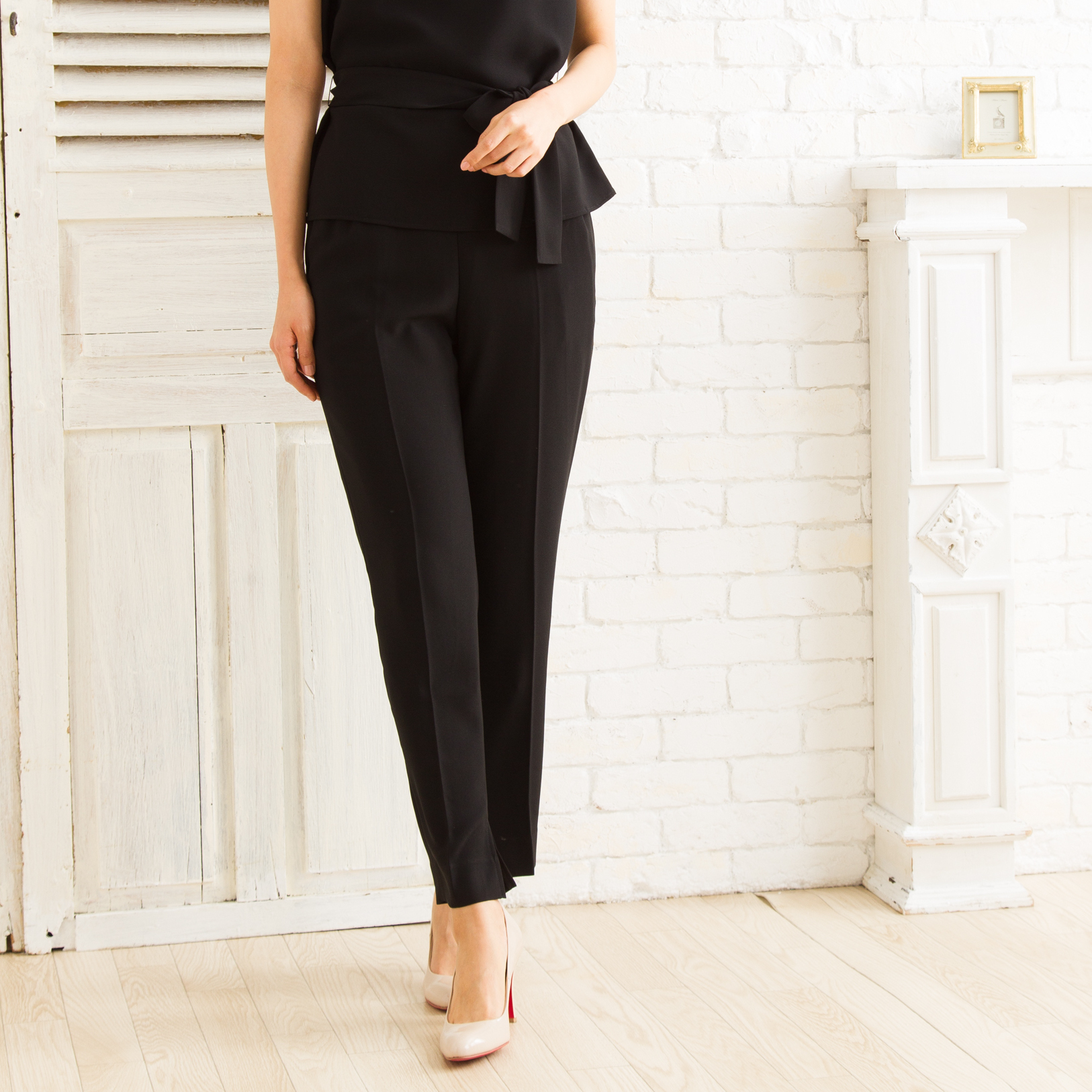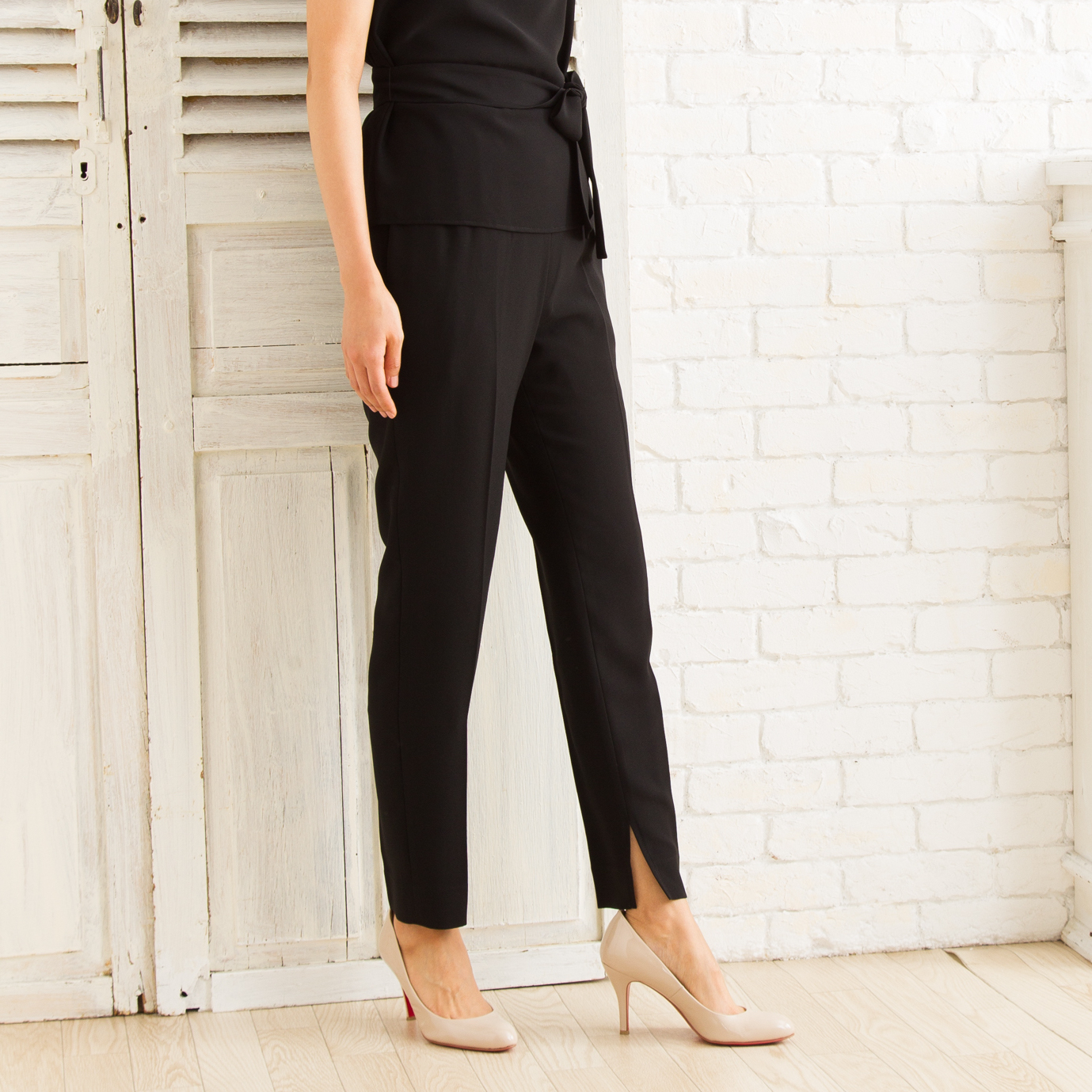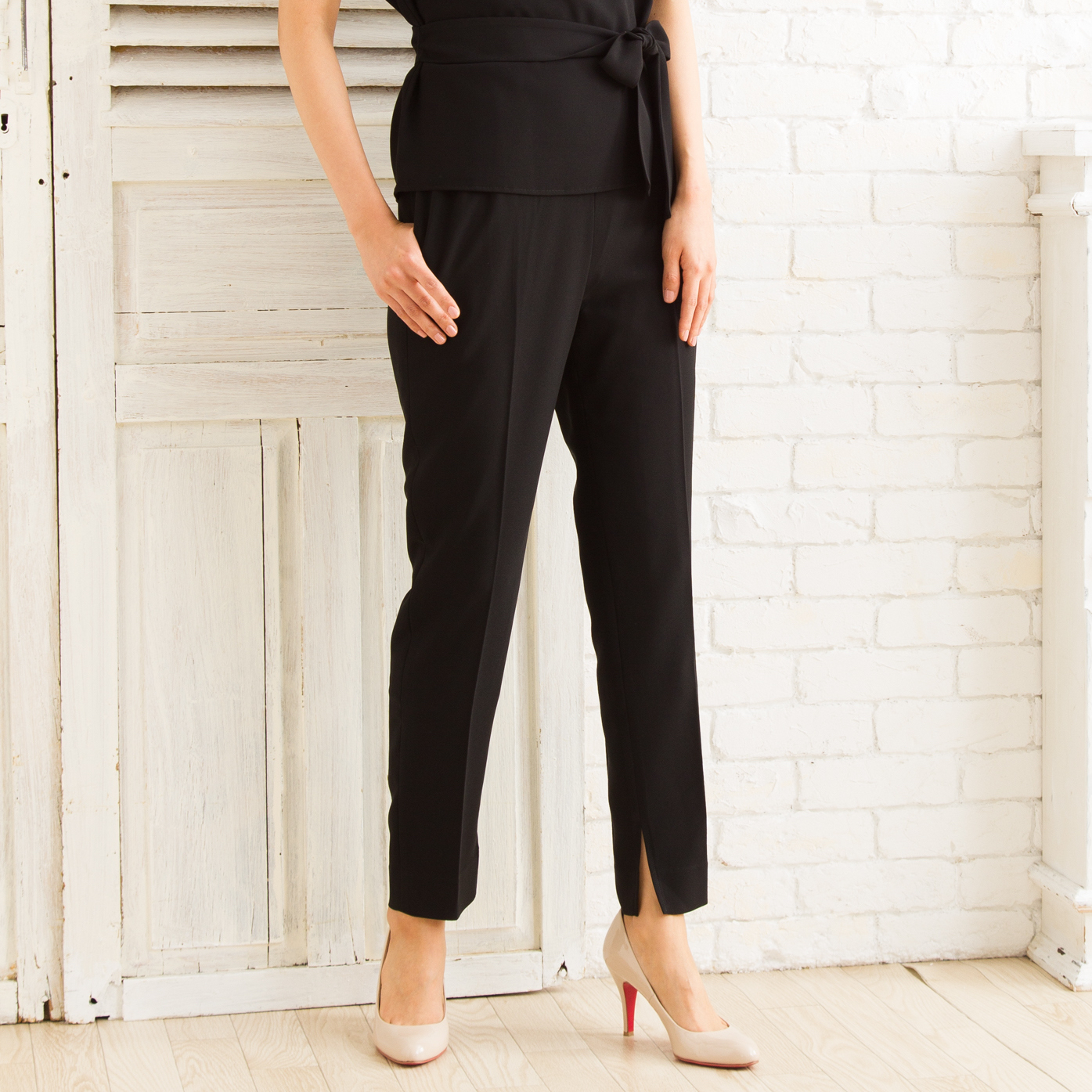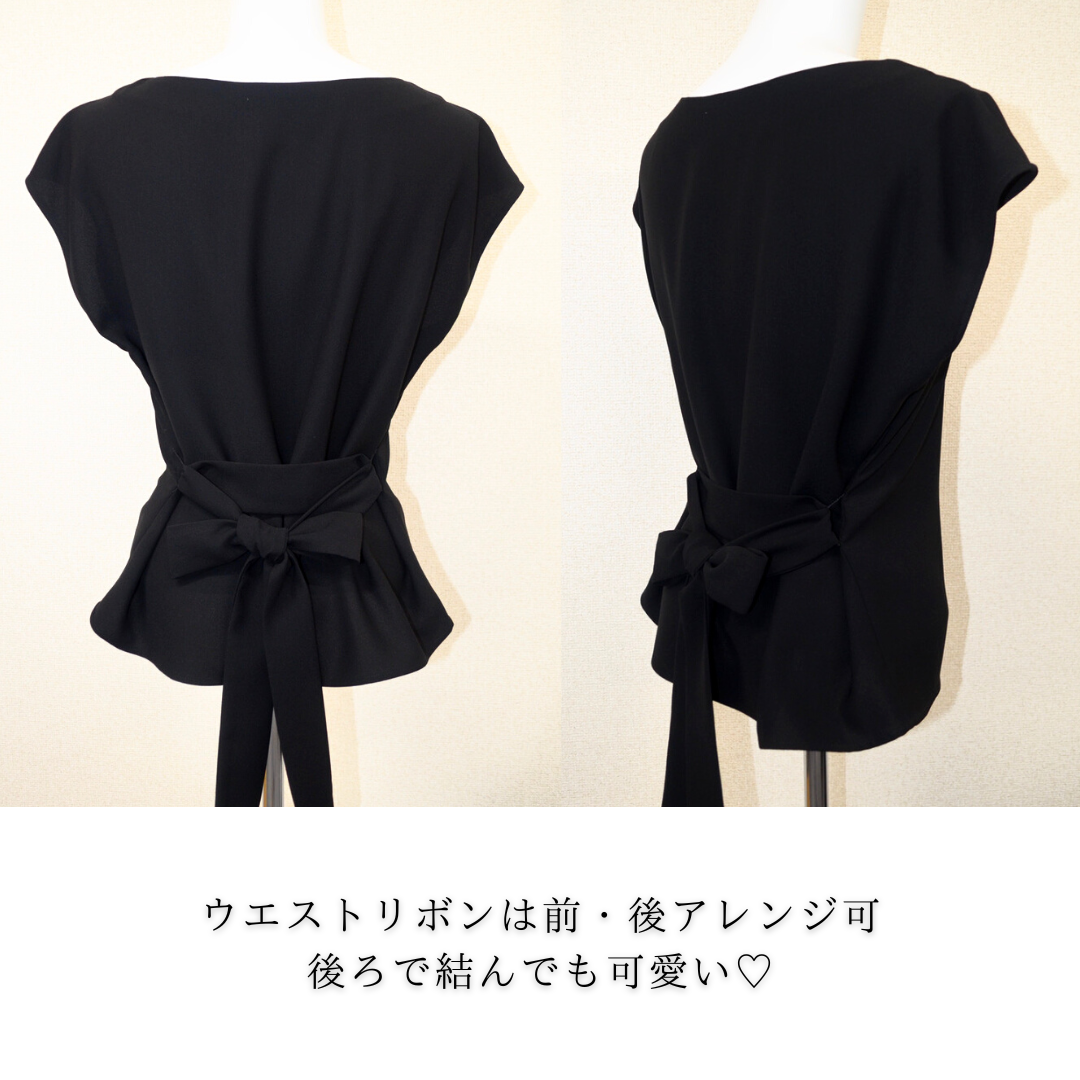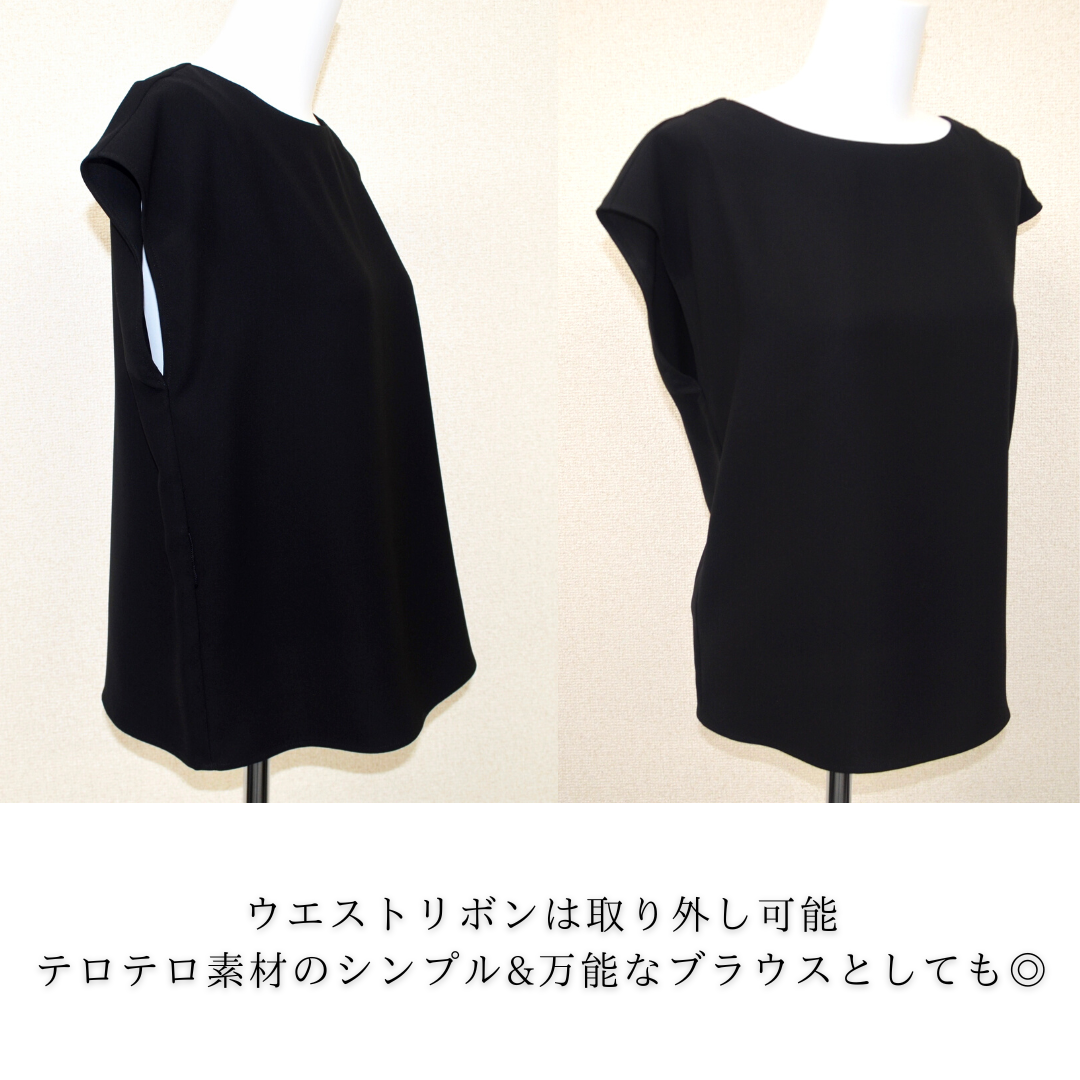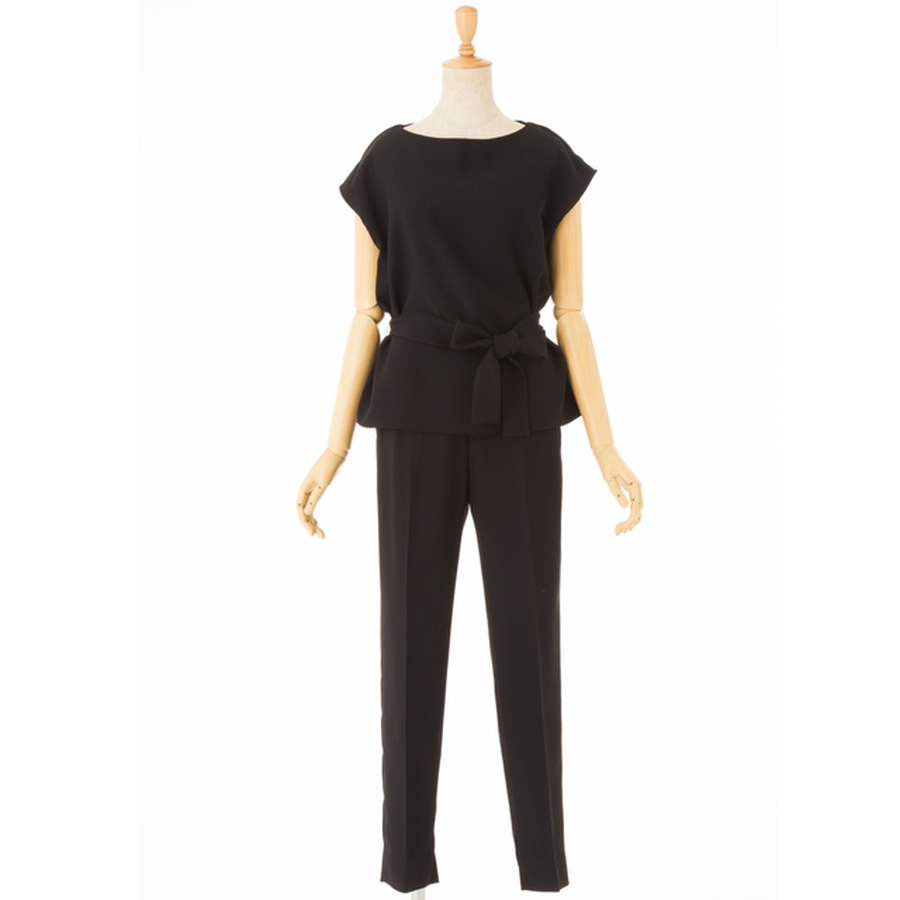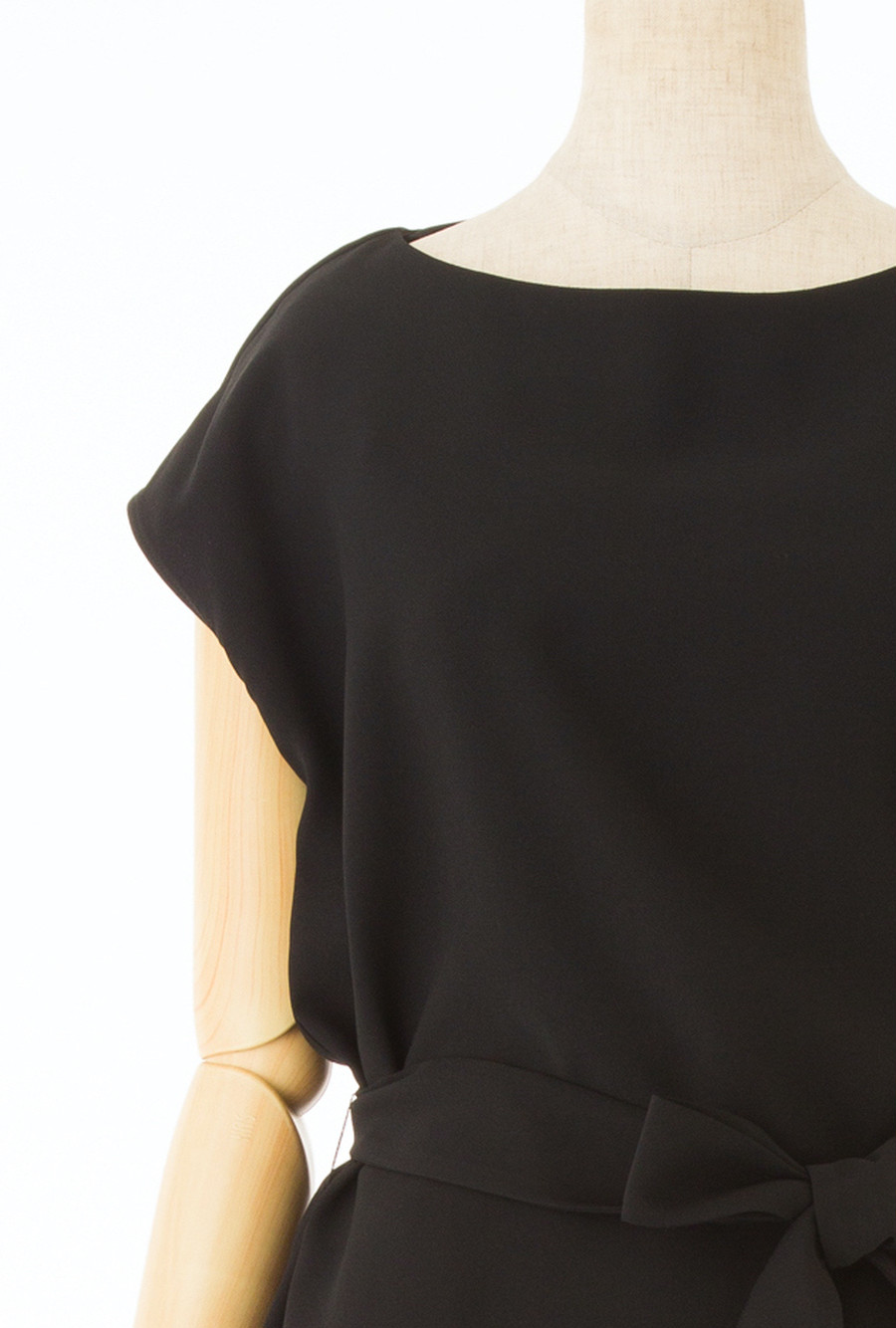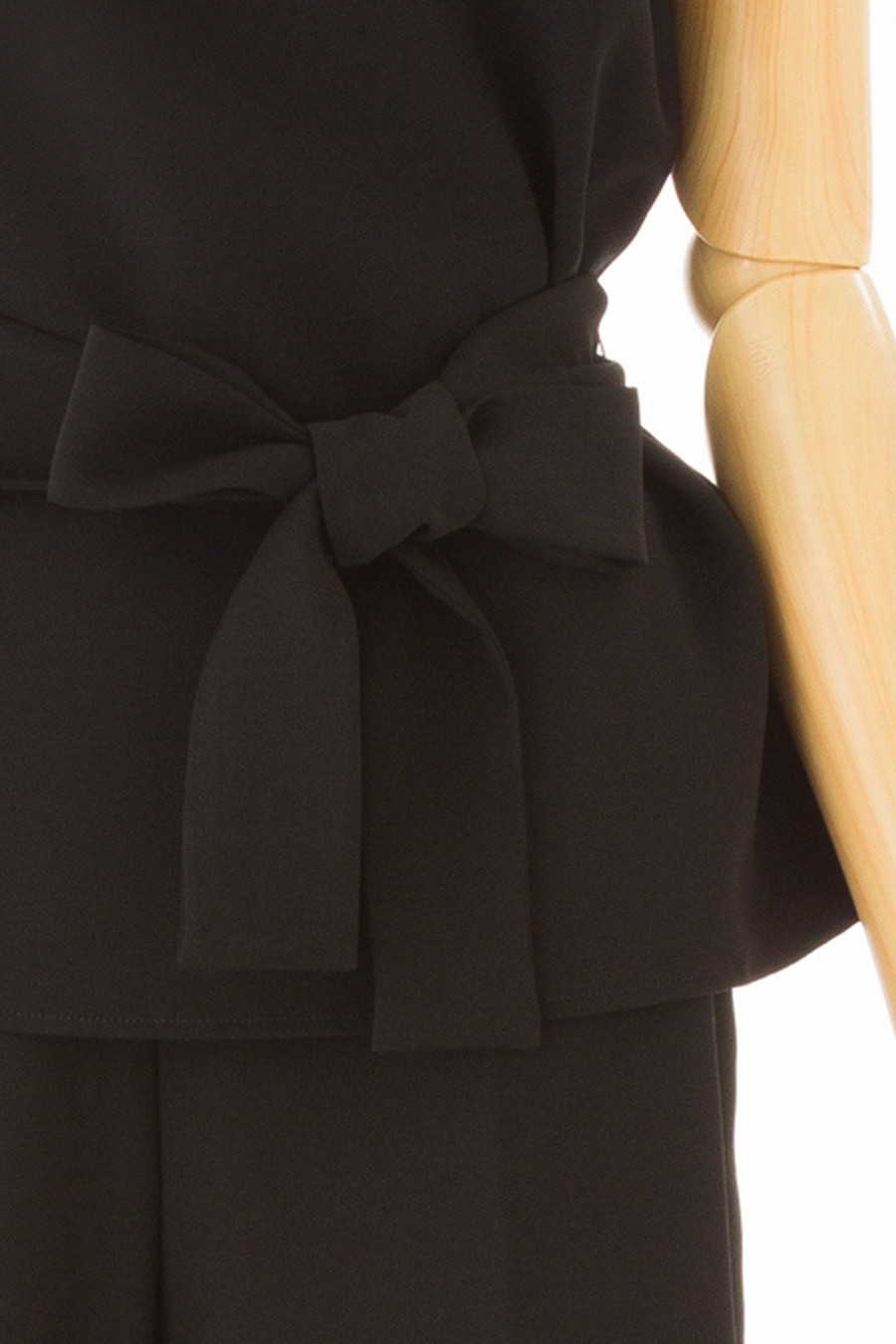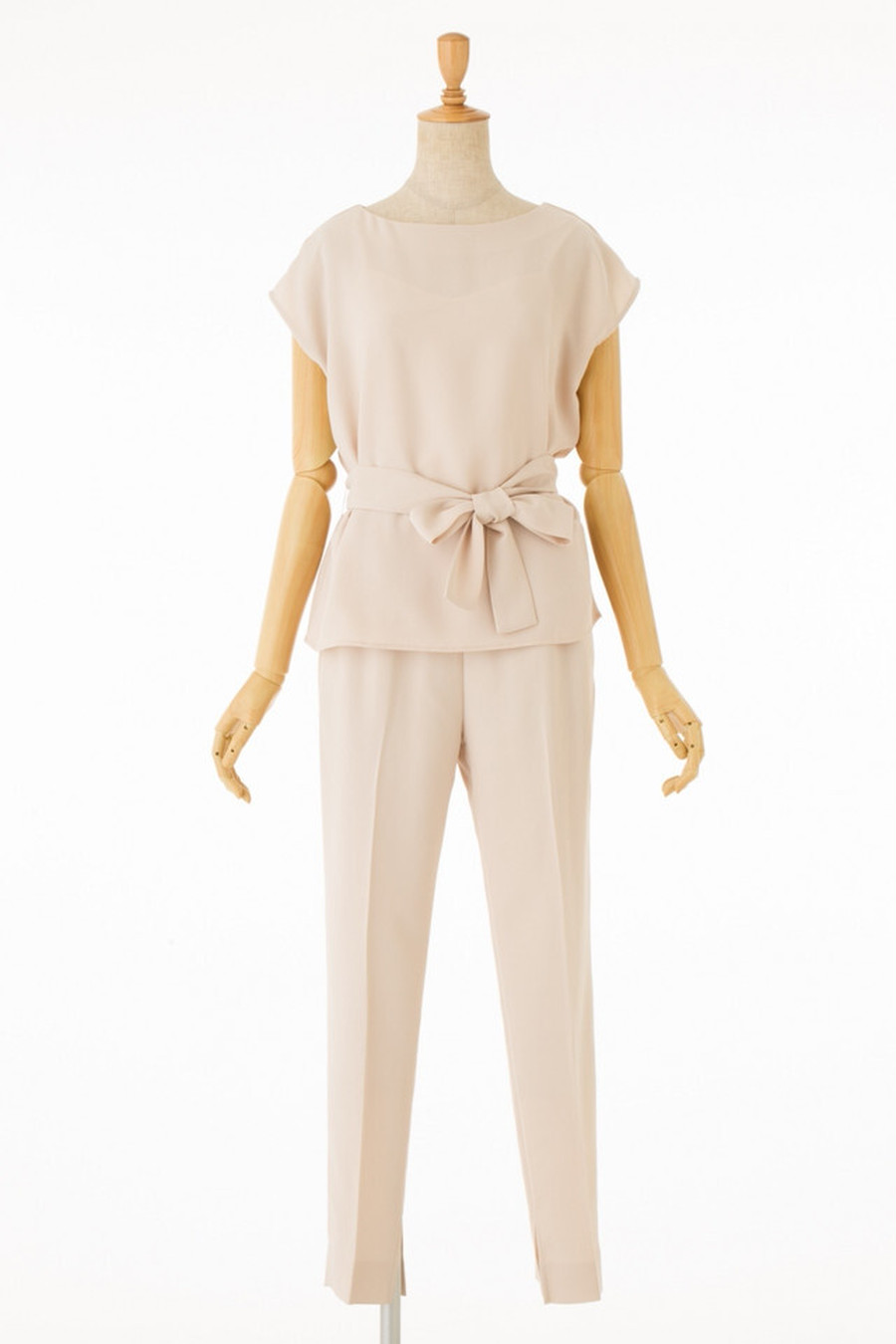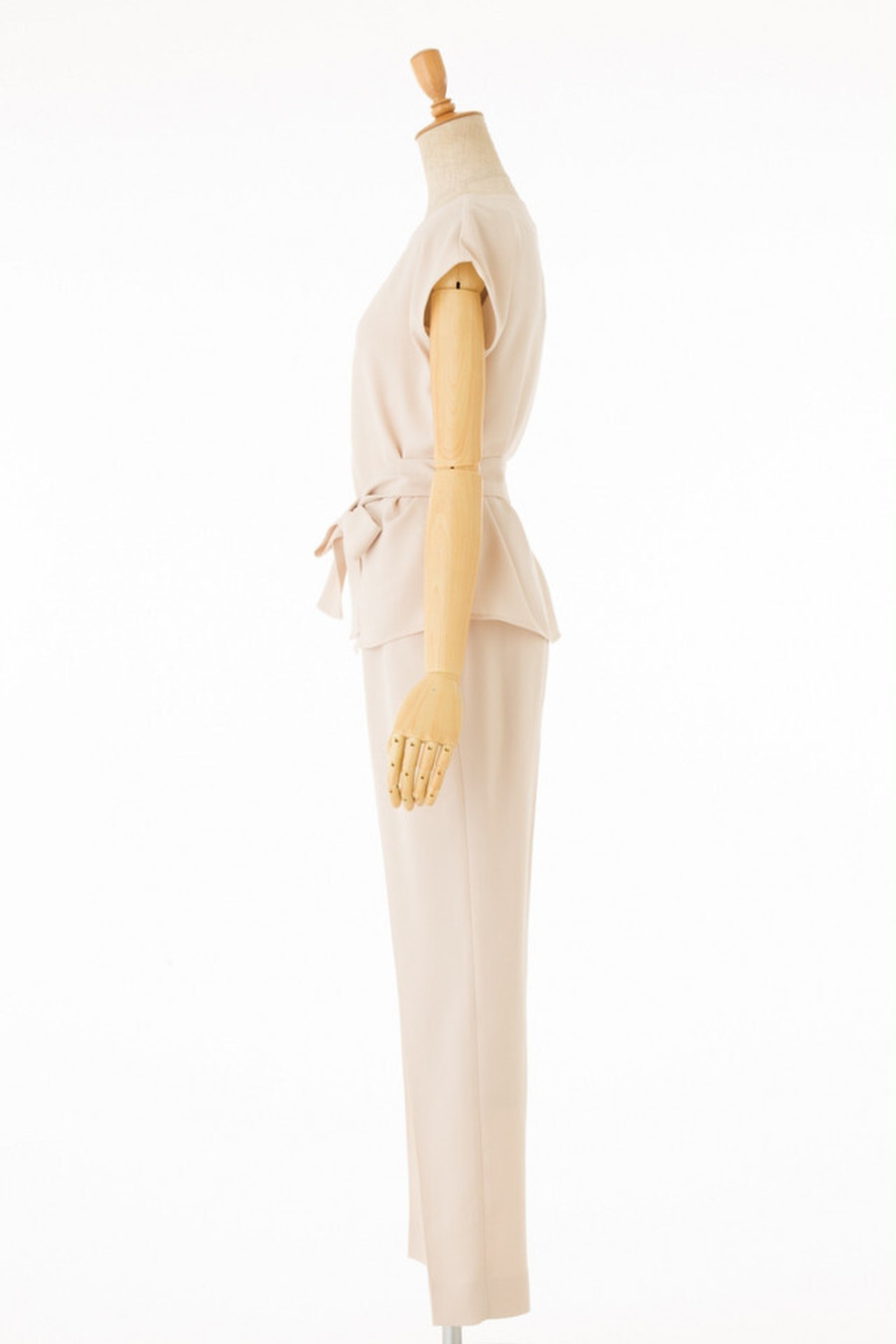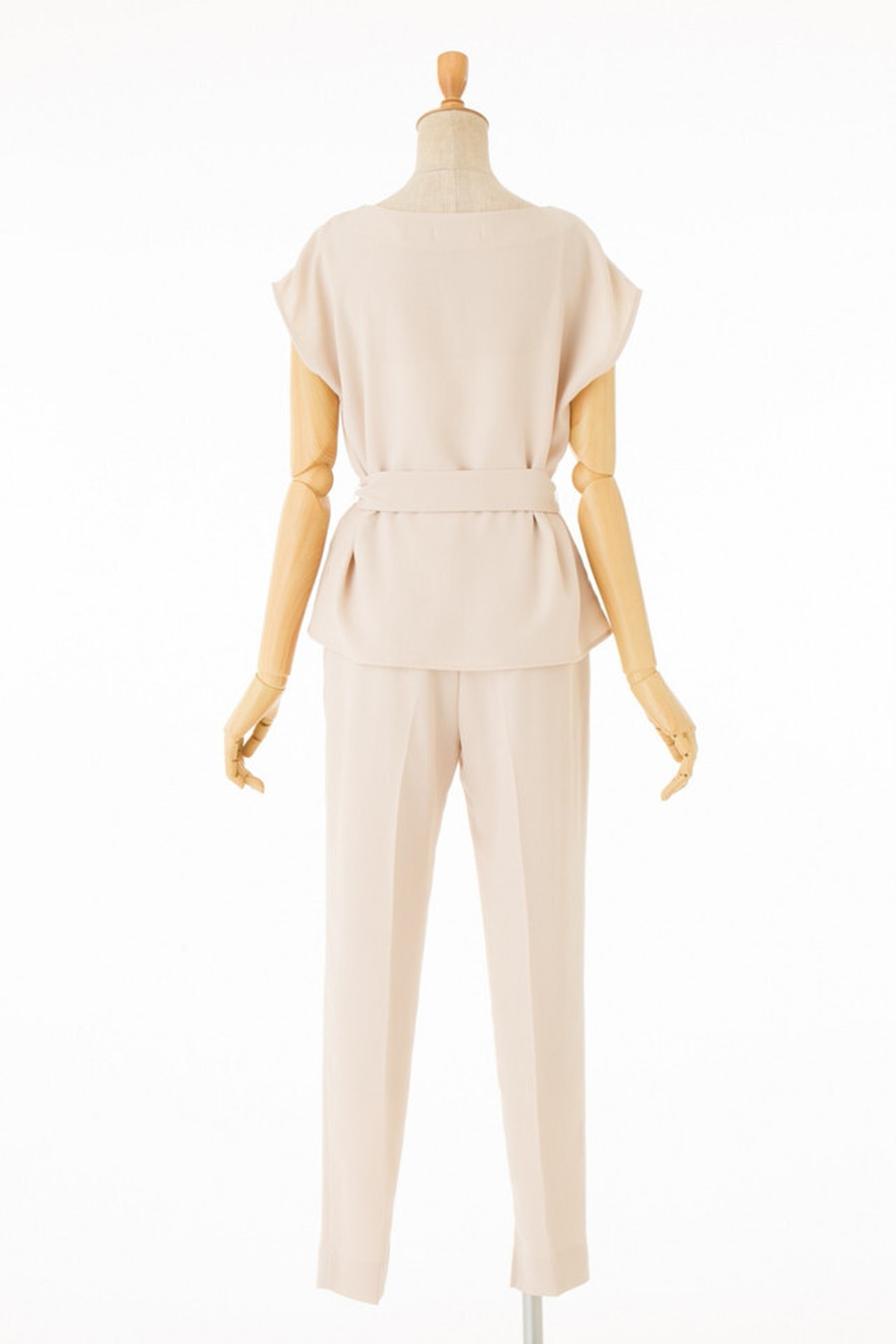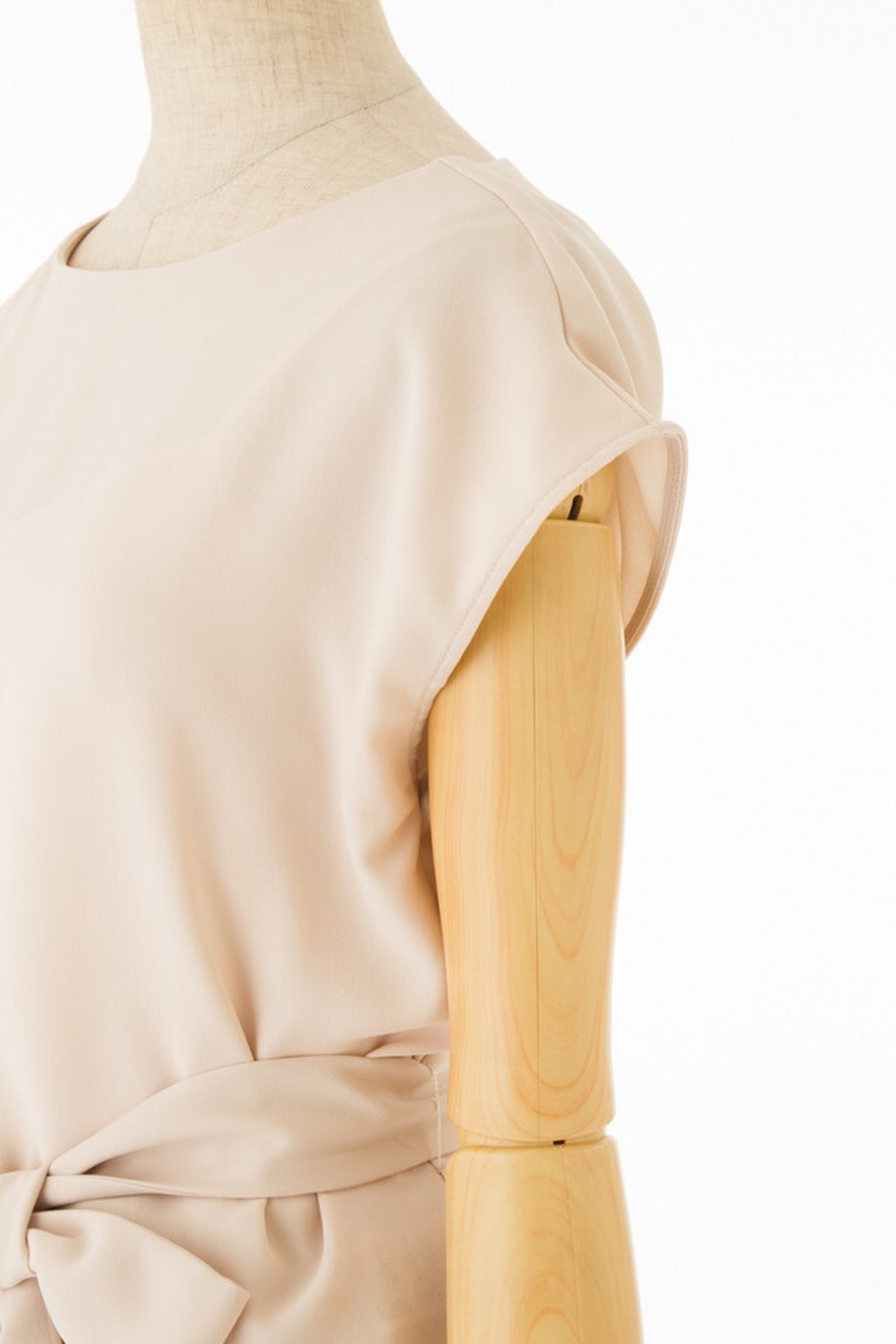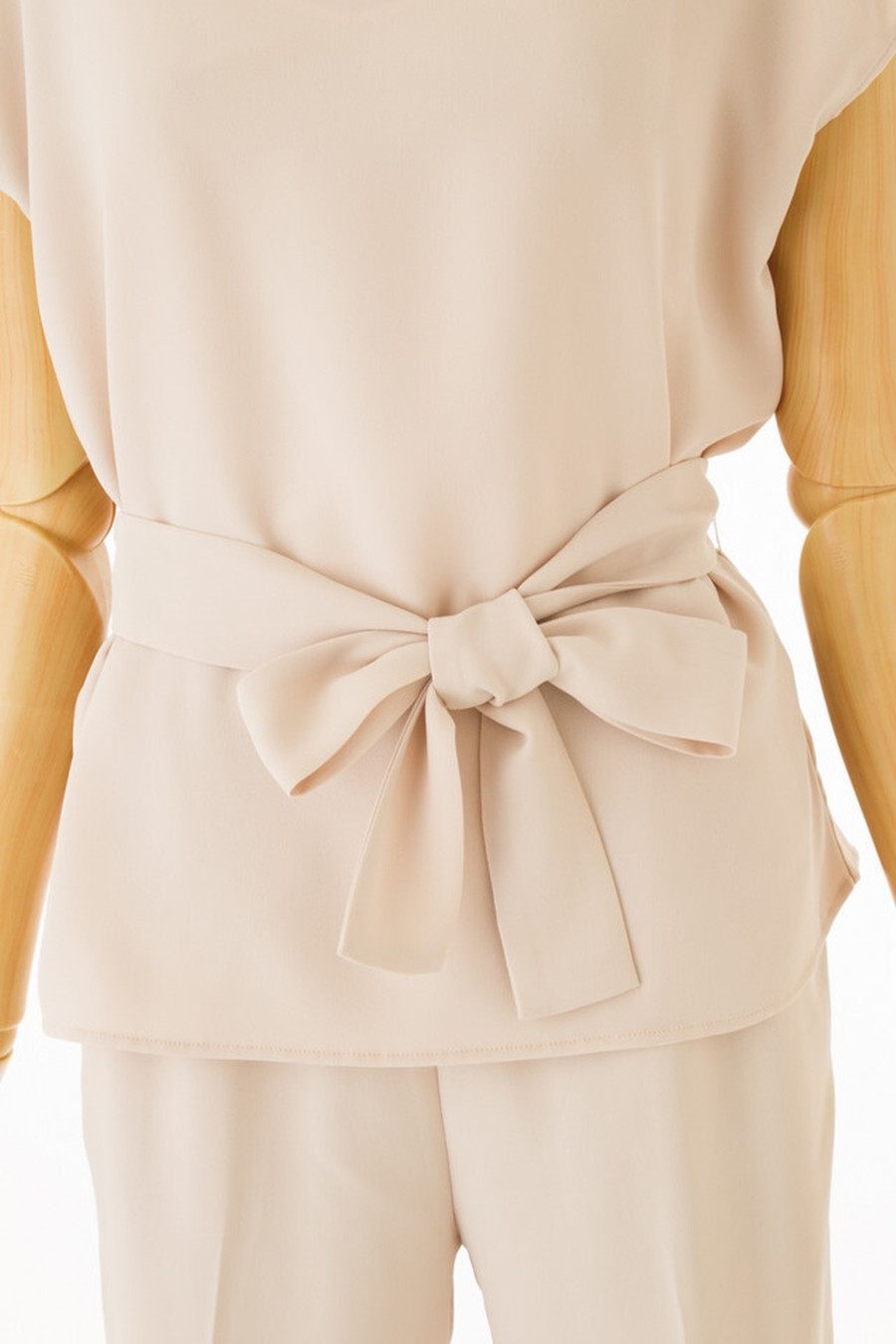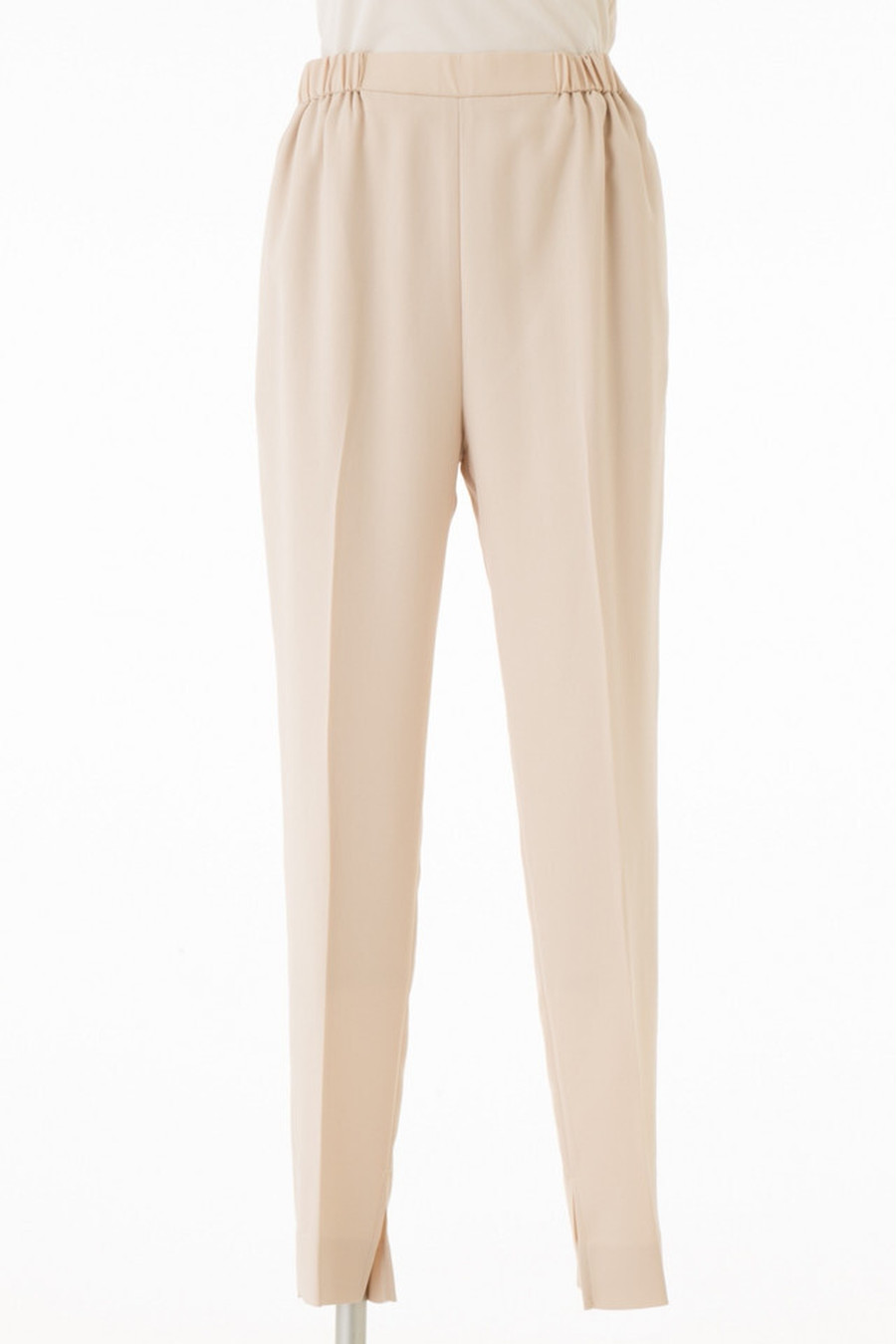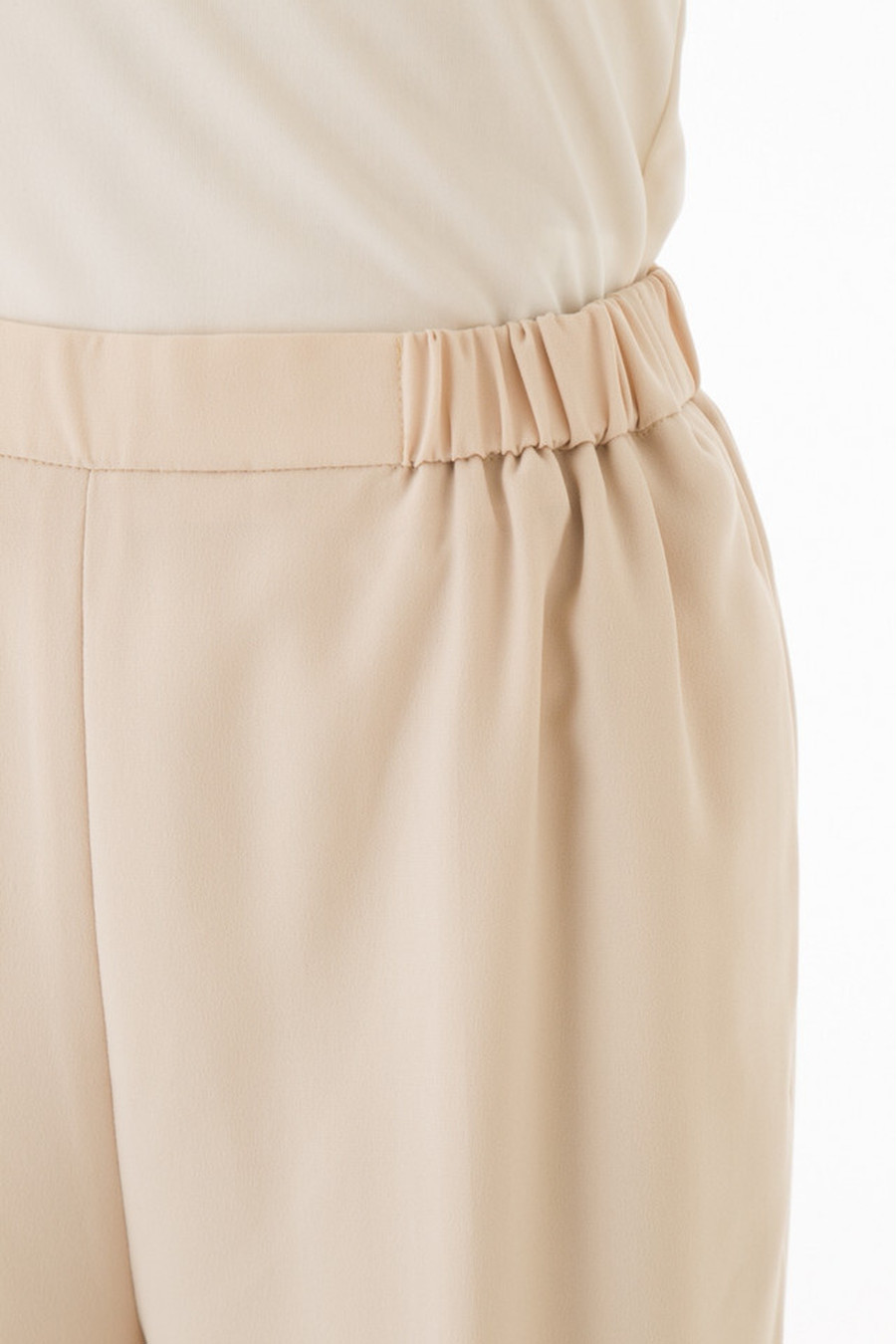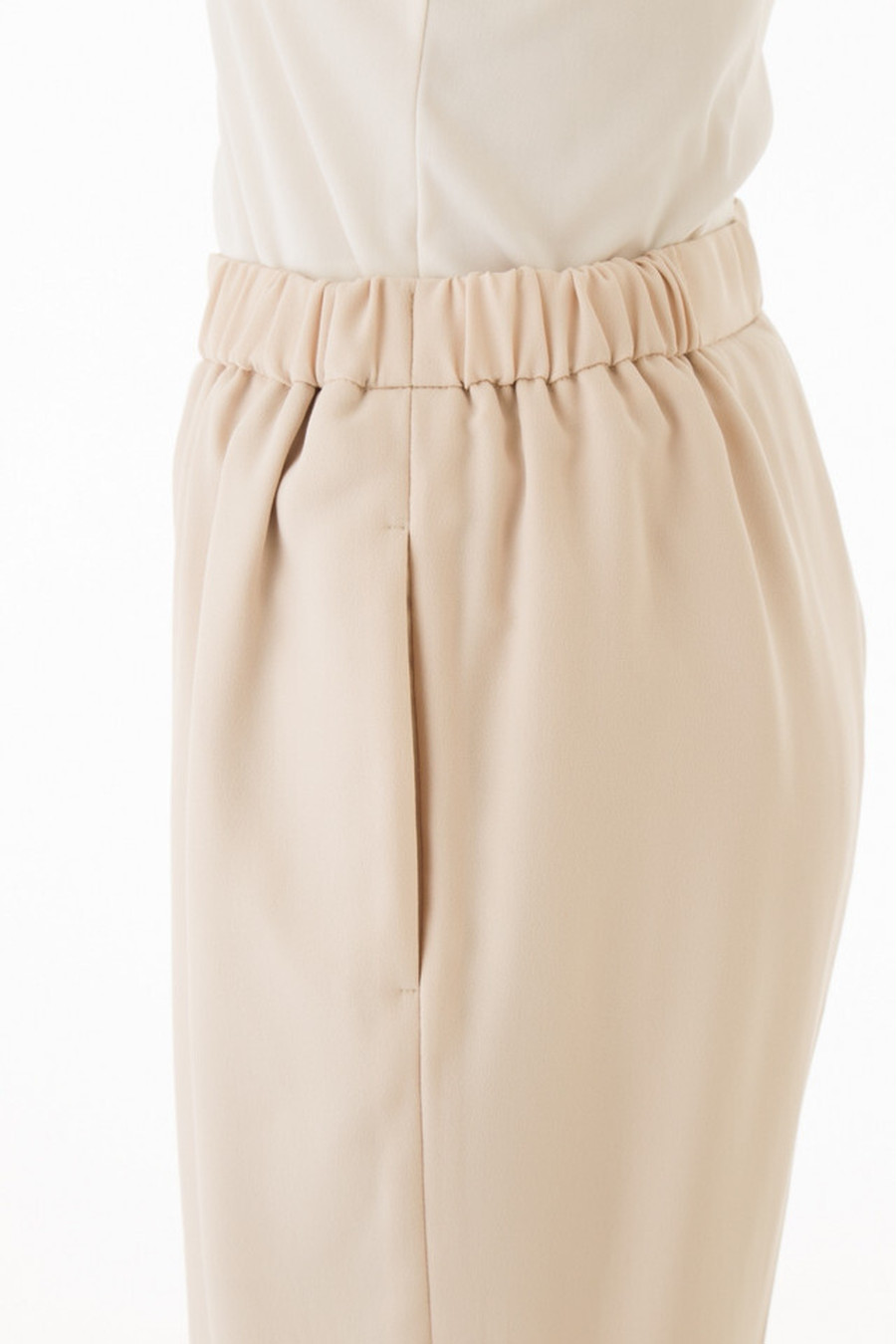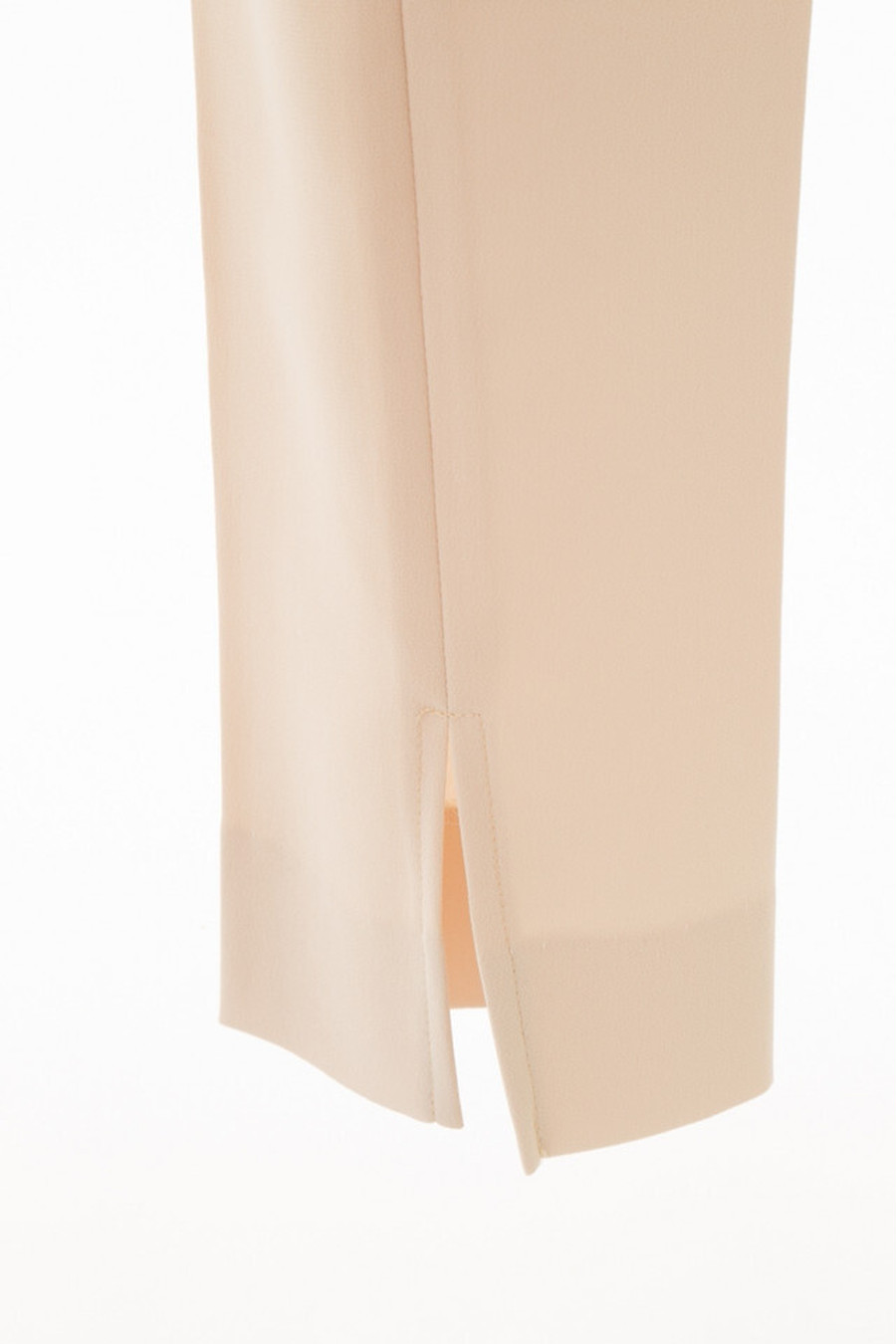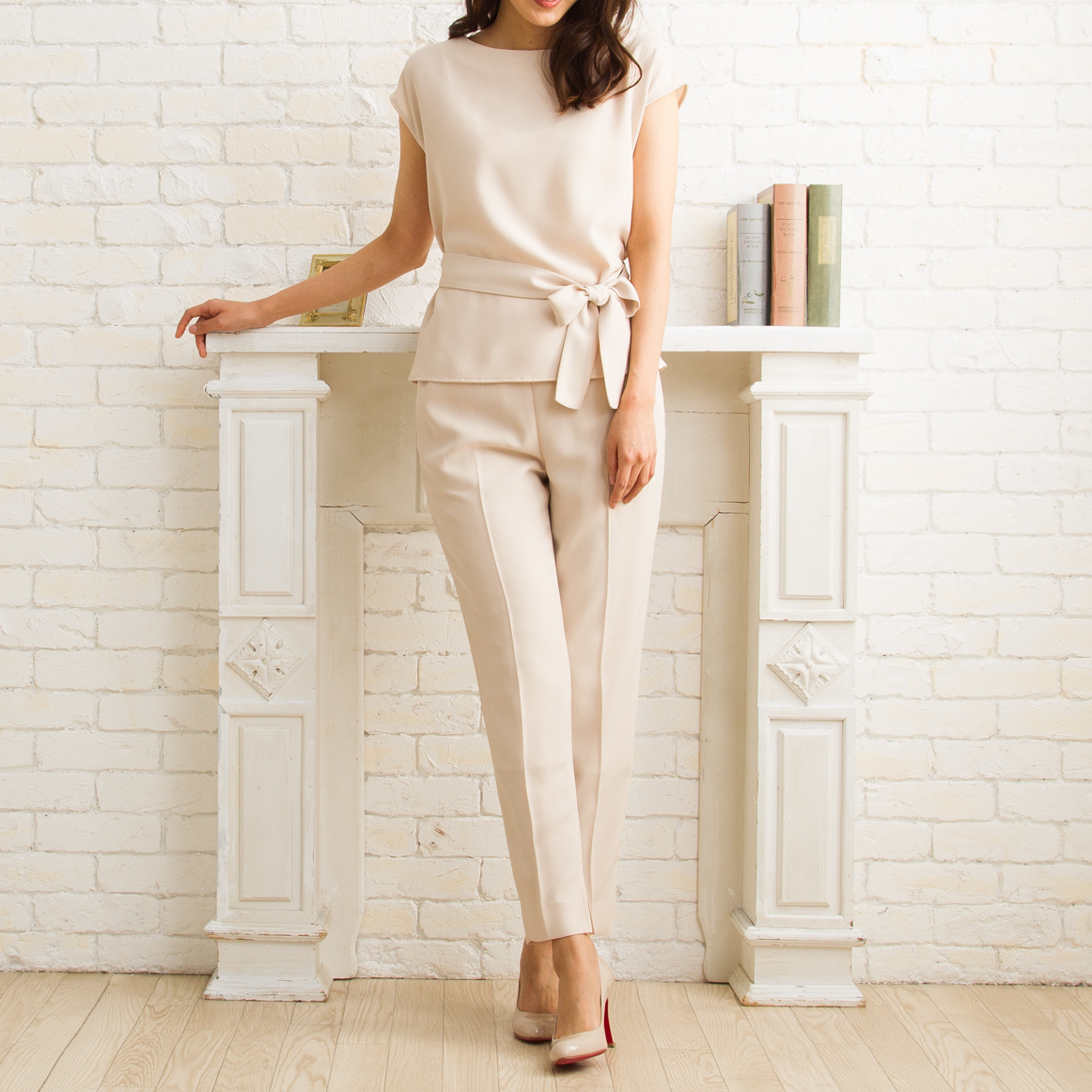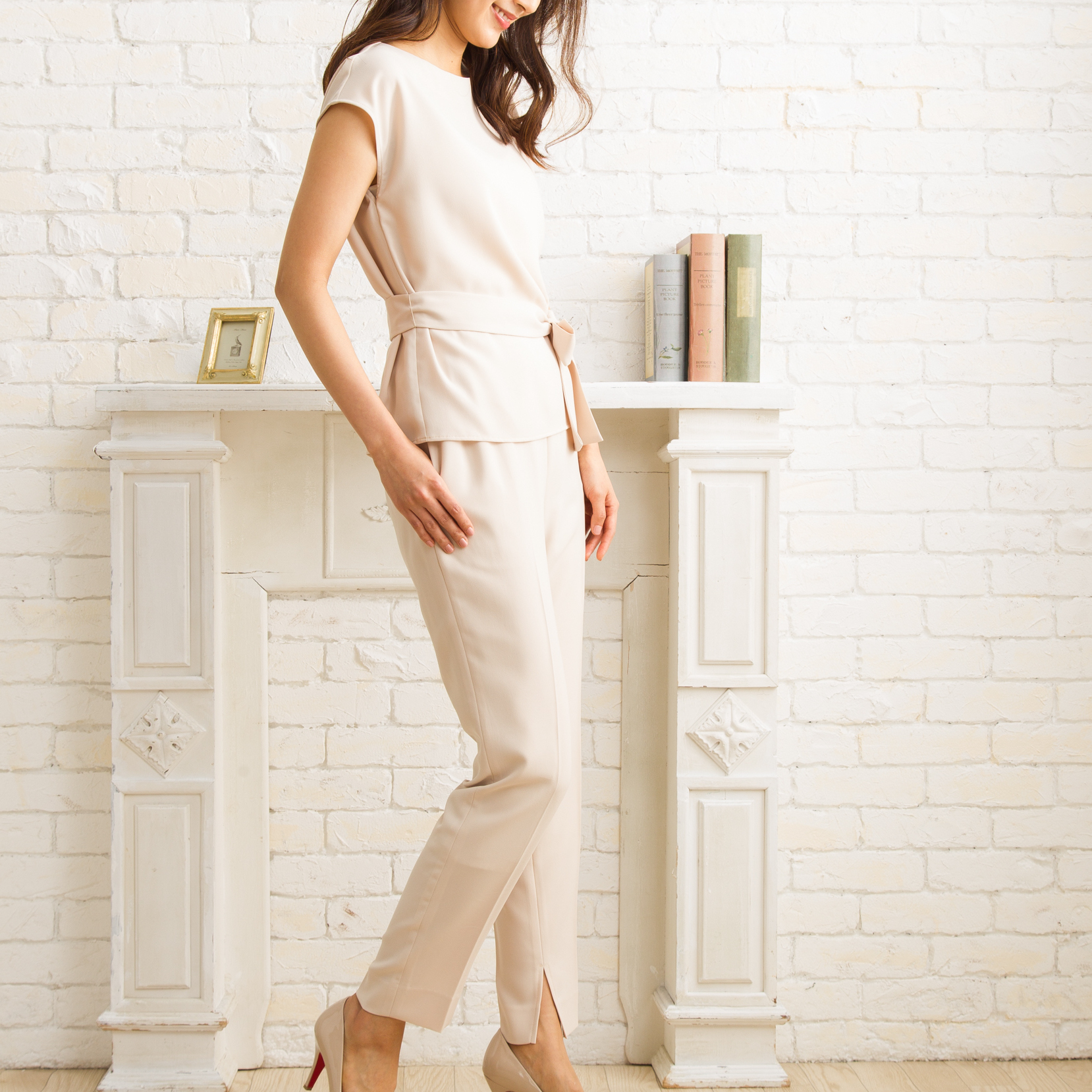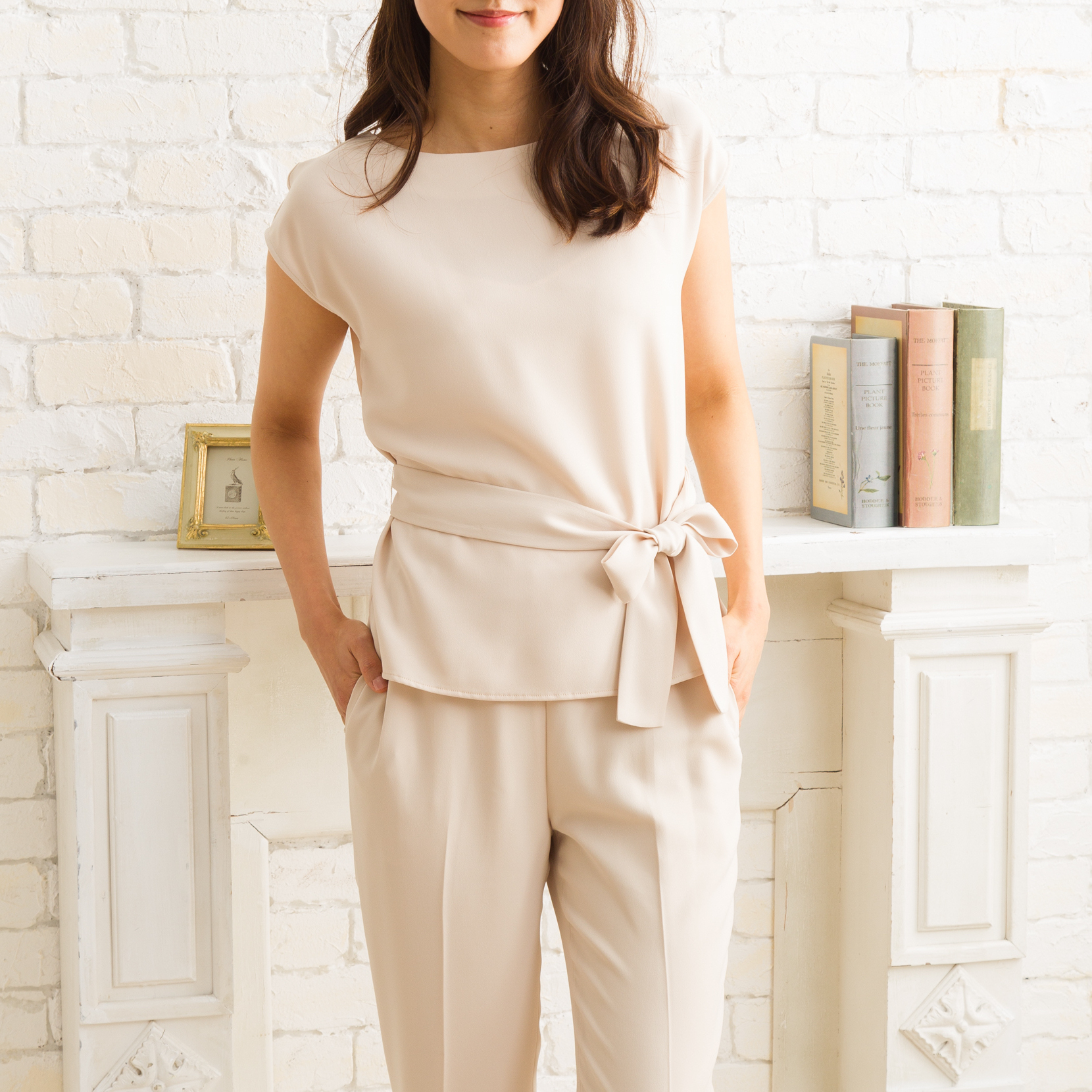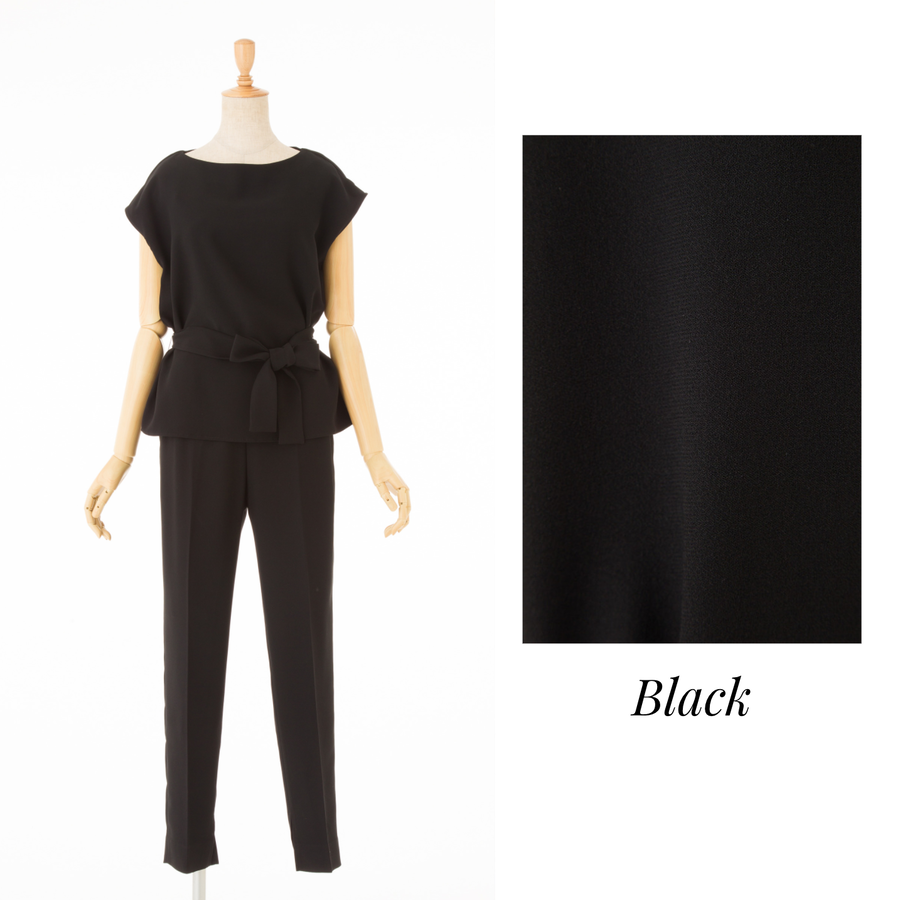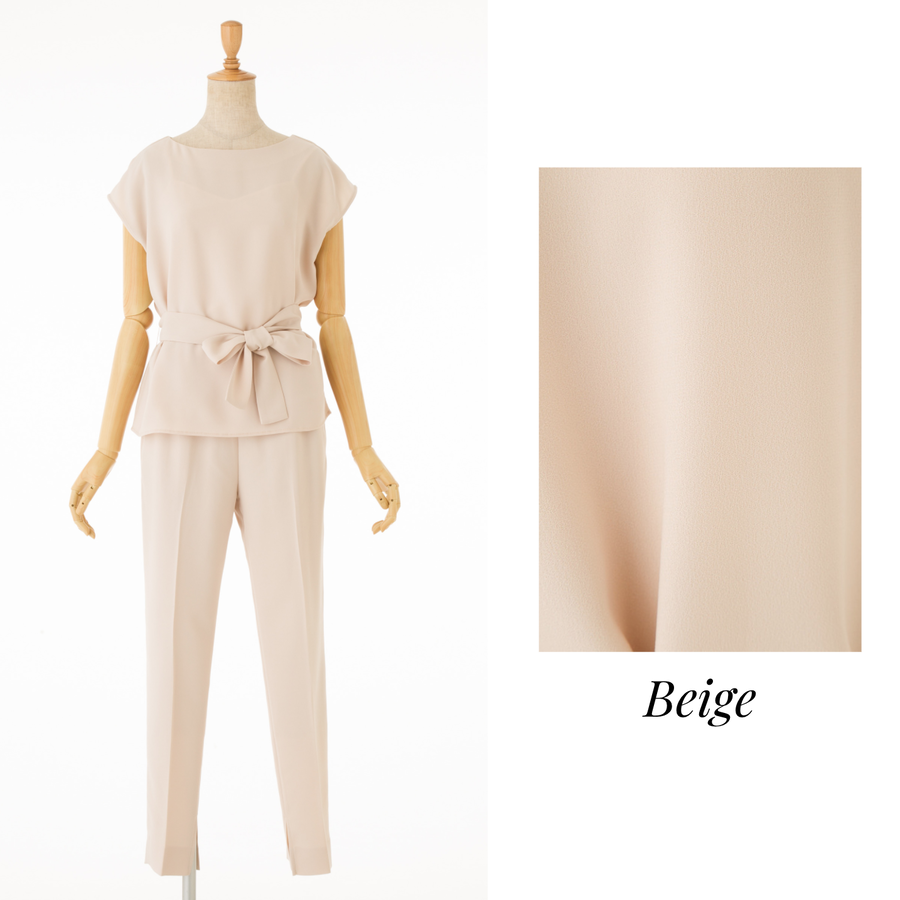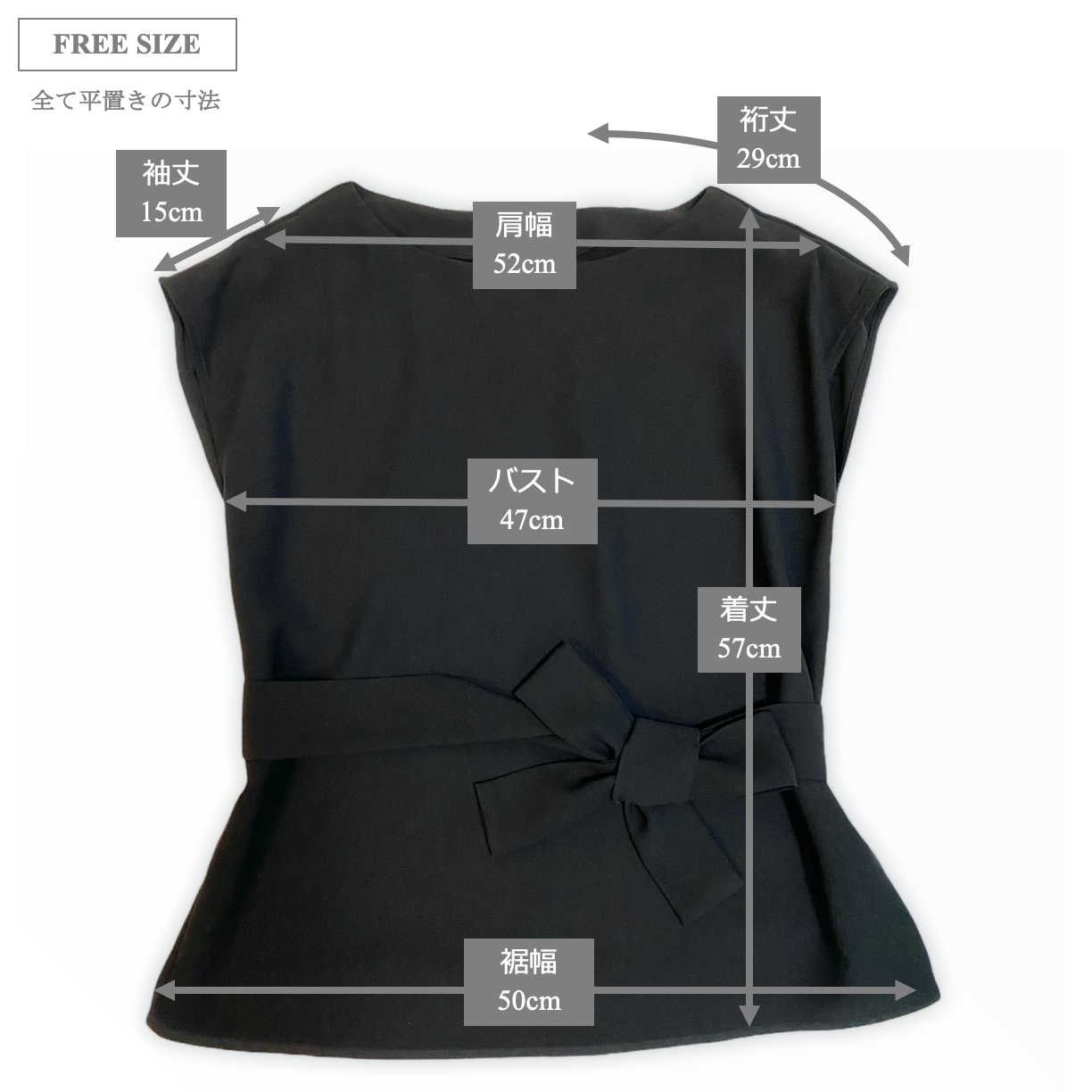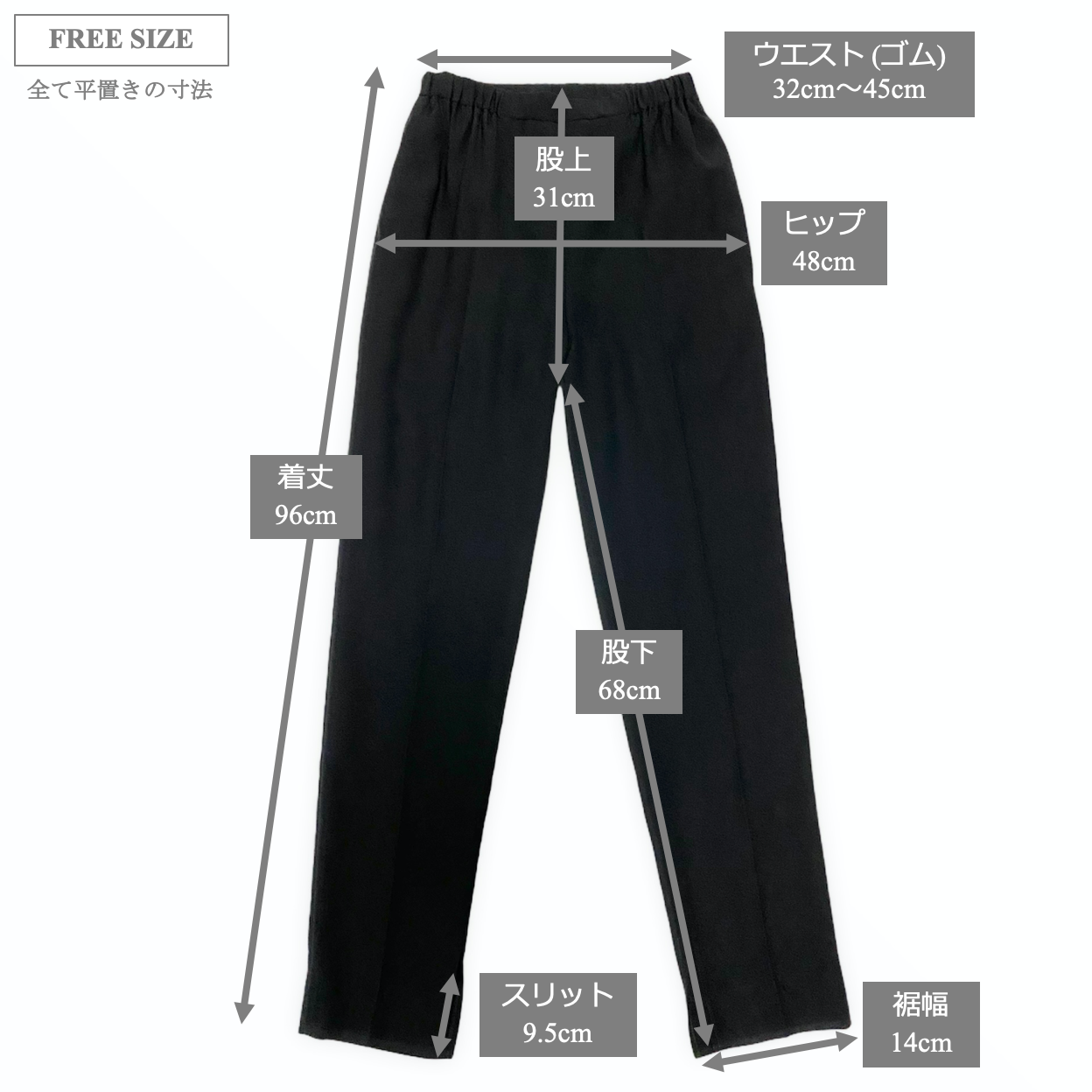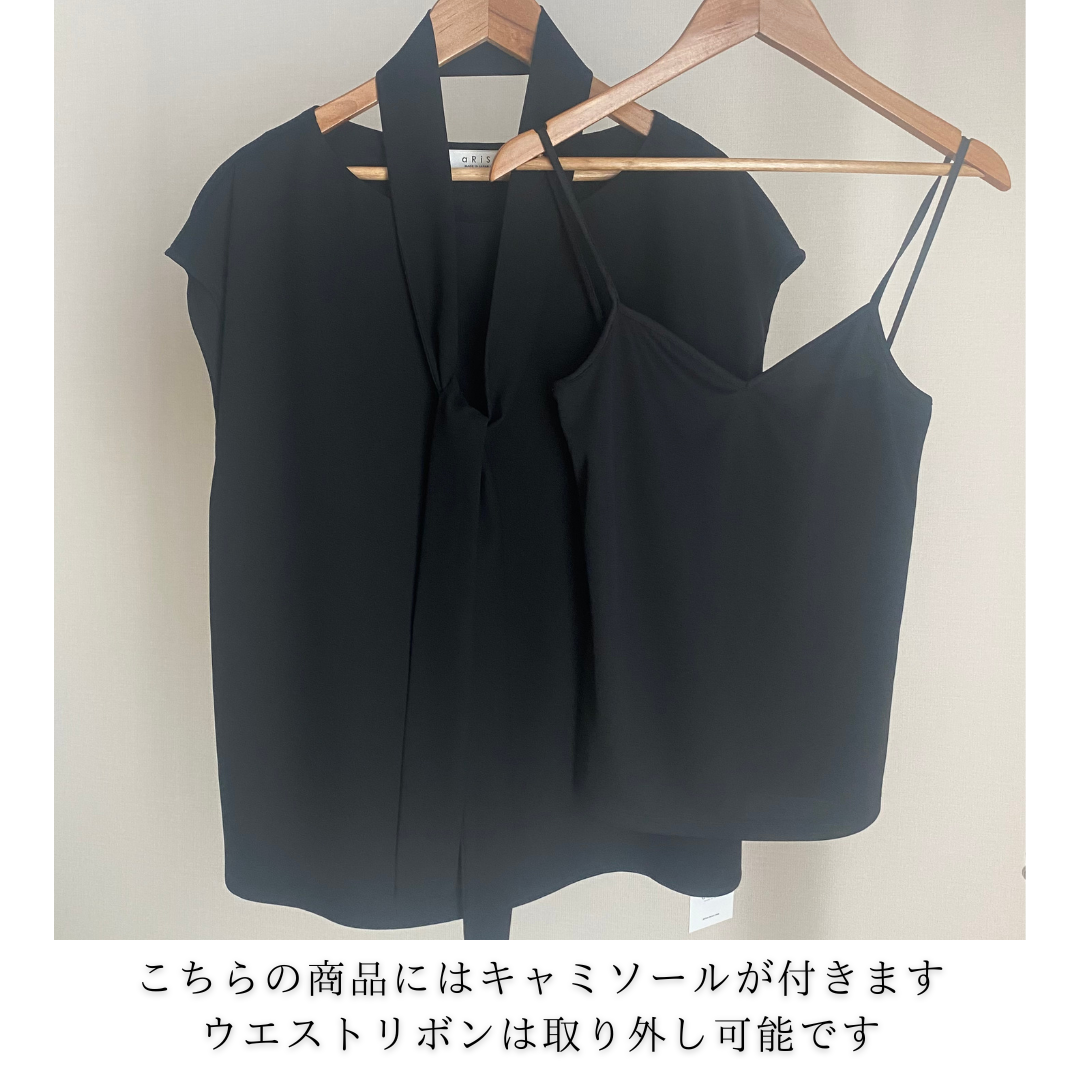 【Product Name】French Sleeve Set Up
【Color】BLACK
【Fabric】100% Made in Japan
【Manufactured Country】Made in Japan
【Fabric Care】Home washable
【Material】Polyester 100%
【Size】FREE SIZE
【Top Size】Length 57cm / Shoulder Width 52cm / Bust 47cm / Hem Width 50cm / Sleeve Length 15cm / Neck to Sleeve 29cm
【Bottom Size】Length 96cm / Waist 32cm (max. 40cm waist stretch) / Hip 48cm / Rise 31cm / Inseam 68cm / Hem Width 14cm / Slit 9.5cm

【Top Fabric】
Lining: No lining (comes with camisole)
Thickness of fabric: Normal thickness
See-throughness: Non-see-through
Stretch: Slightly-stretchy

【Bottom Fabric】
Lining: With lining
Thickness of fabric: Normal thickness
See-throughness: Non-see-through
Stretch: Slightly-stretchy
【Product Details】
Made in Japan 100% high quality french sleeve pants two piece set up. Perfect for casual and formal occasions including office, dinners, date nights, wedding, parties.
Comfortable high waist design elasticised and stress free.
Made of smooth and comfortable textured Japan made fabric.
French sleeves, boatneck, removable waist ribbon. Comes with a camisole.

【French Sleeve Top】
A universally flattering classic french sleeve blouse that goes with everything in your closet. Smooth and comfortable texture gives it a refined-yet relaxed irresistibly feminine edge.
Made of lightweight fabric with a touch of stretch. Boatneck. Removable self tie belt. Can be worn in or out with pants or skirt. Comes with a simple black camisole.
【Center Pressed Pants with Slit】
A relaxed fit pants. Comes in a smooth and comfortable textured fabric with a touch of stretch.
High waist and leg-lengthening silhouette, combined with an easy wearing pull-on design and elasticised side waist for a comfortable yet refined look.
An effortlessly sleek deep side slit adds an extra dose of elegance for days when you need a little something extra. Center pressed. Vertical on-seam pockets. Lined.
Reviews

(20)

Shipping method / fee

Payment method