アンサンブル風ケープブラウス【ホワイト】
Japan domestic shipping fees for purchases over ¥10,000 will be free.
Shipping fee is not included. More information.
【商品詳細】
デザインについて
◎お肌の露出を控えたマントを羽織っているかのようなアンサンブル風ケープブラウス
◎二の腕や背中周りをカバーしてくれるので着痩せ効果抜群
◎大人フェミニンな気品のあるシンプルデザイン
◎ボトムスにイン・アウトしやすい長めの丈感
◎デニムからフォーマルまで幅広いコーディネートに使える一着
◎ケープからさりげなく覗き出る二の腕が女性らしい印象を与えてくれます
◎お持ちのアイテムと合わせやすく、シーンを問わず活躍します
◎ケープを前に持ってくることで、スカーフのような2WAYコーデも楽しめます

機能性について
◎シワになりにくい
◎ご自宅でお洗濯可能

生地について
◎テロテロで高級感のある肌触りの良い着心地
◎上質で安心高品質な日本製の丁寧な縫製
◎生産国:日本
◎原産国:日本

こちらのブラウスはファッション誌 WEB Oggiで紹介されました。
記事リンクはこちら→ https://oggi.jp/6353905

【商品名】アンサンブル風ケープブラウス
【カラー】ホワイト
【生産国】日本製100%
【生地原産国】日本
【機能】ホームクリーニング可能
【素材】ポリエステル100%
【サイズ】フリーサイズ(着丈 58cm / 肩幅 33cm / バスト 45.5cm / 裾幅 47cm / 袖丈 43cm / 裄丈 61cm)

【素材】
裏地:なし
生地の厚さ:普通
透け感:ややあり
伸縮性:ややあり

❤︎❤︎❤︎❤︎❤︎❤︎❤︎❤︎❤︎❤︎❤︎❤︎❤︎❤︎❤︎❤︎❤︎❤︎❤︎❤︎❤︎❤︎❤︎❤︎
【Product Name】Open Sleeve Cape Blouse
【Color】WHITE
【Fabric】100% Made in Japan
【Manufactured Country】Made in Japan
【Fabric Care】Home washable
【Material】Polyester 100%
【Size】FREE SIZE (Length 58cm / Shoulder Width 33cm / Bust 45.5cm / Hem Width 47cm / Sleeve Length 43cm / Neck to Sleeve 61cm)

【Fabric】
Lining: No lining
Thickness of fabric: Normal thickness
See-throughness: Slightly-see-through
Stretch: Slightly stretchy
Material: Polyester 100%

【Product Details】
Revamp your wardrobe with this irresistibly fresh open sleeve cape blouse for a clean and modern look. Beautifully draped cape style gives it a relaxed feminine silhouette.
Elbow sleeves cover upper arms while the inside is a tank top style design.
Smooth fabric and comfortable textured. Boat neck. Gathered around the side neck. Can be worn in or out with pants or skirt.
Add to Like via app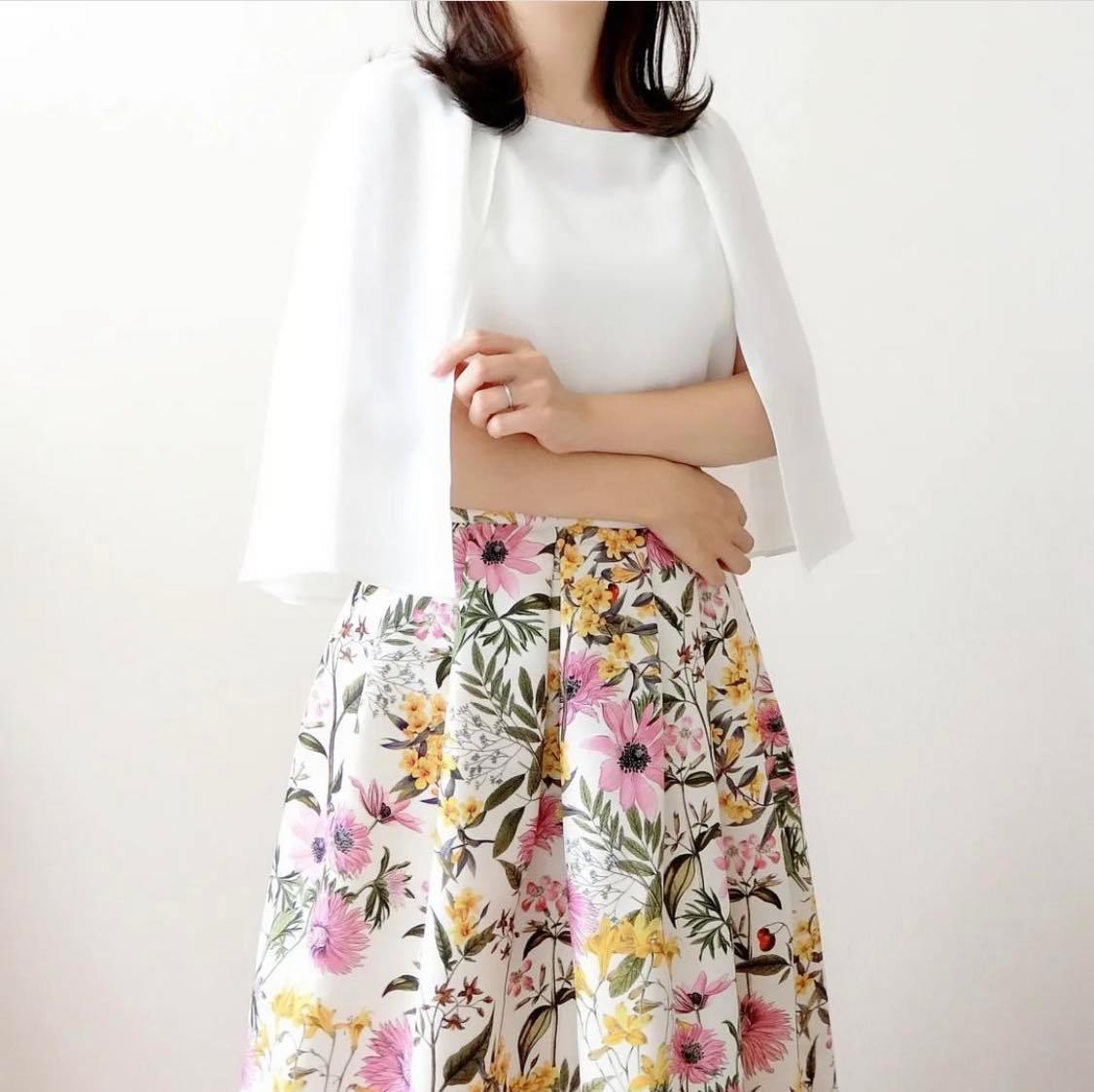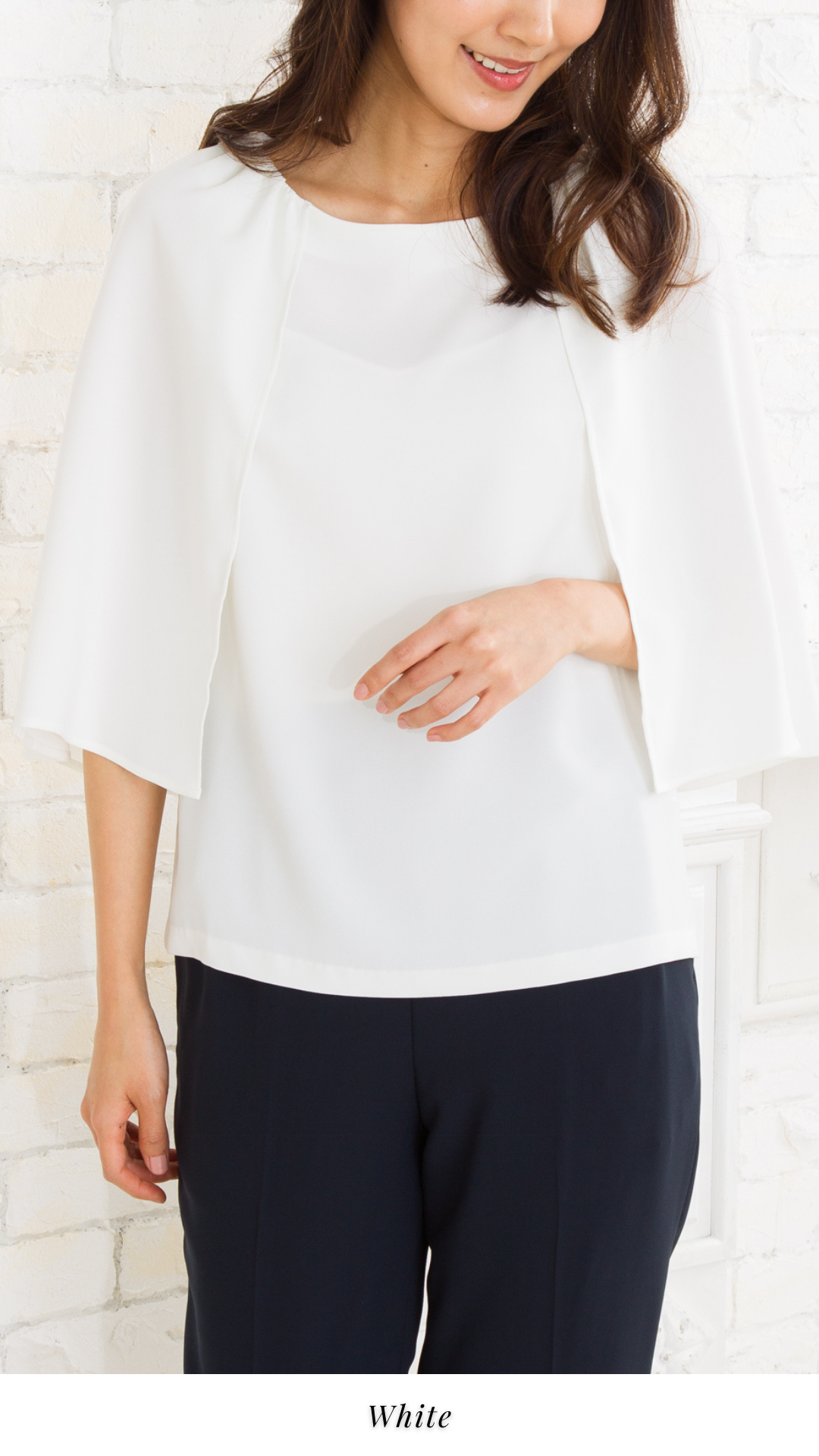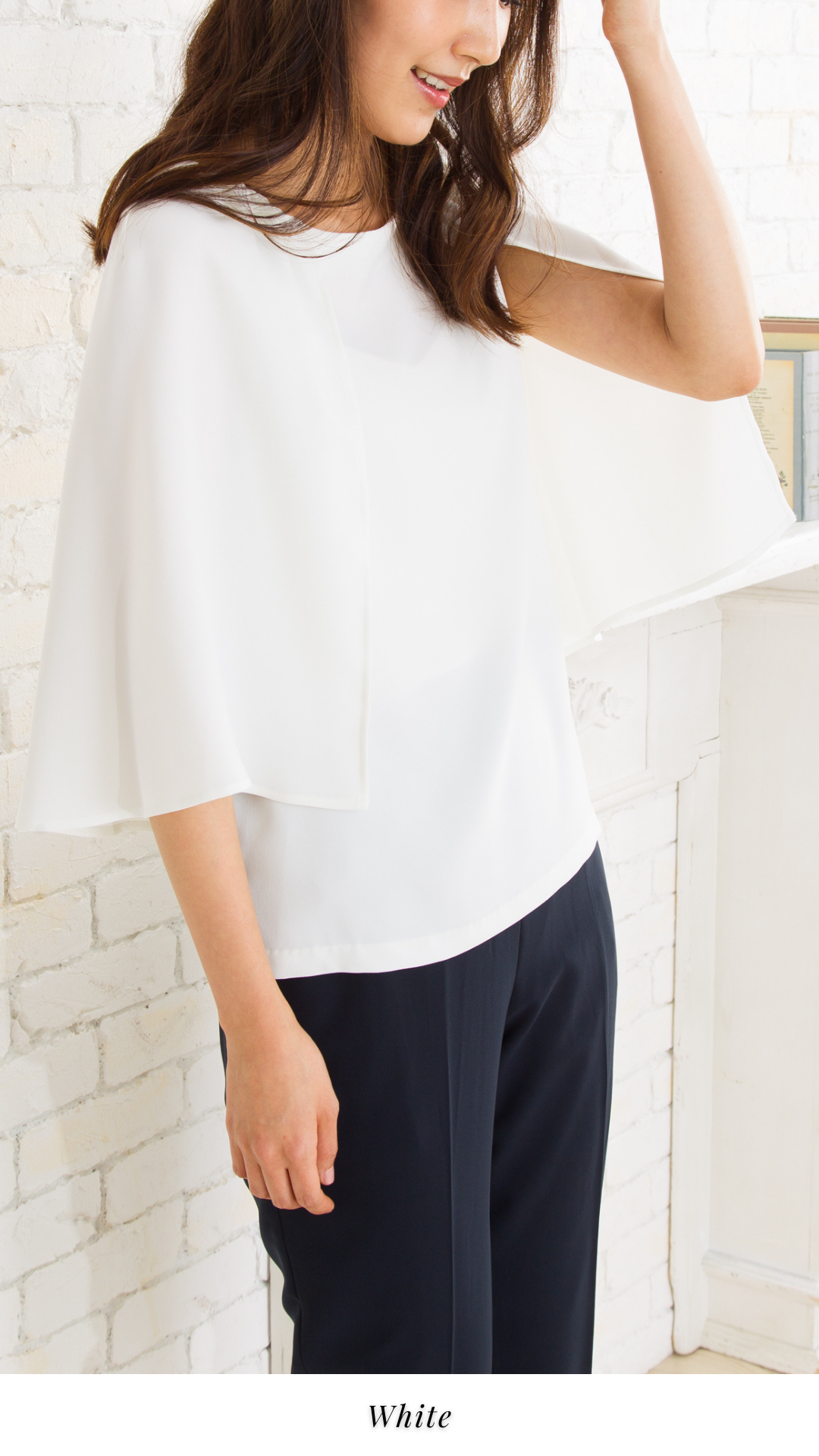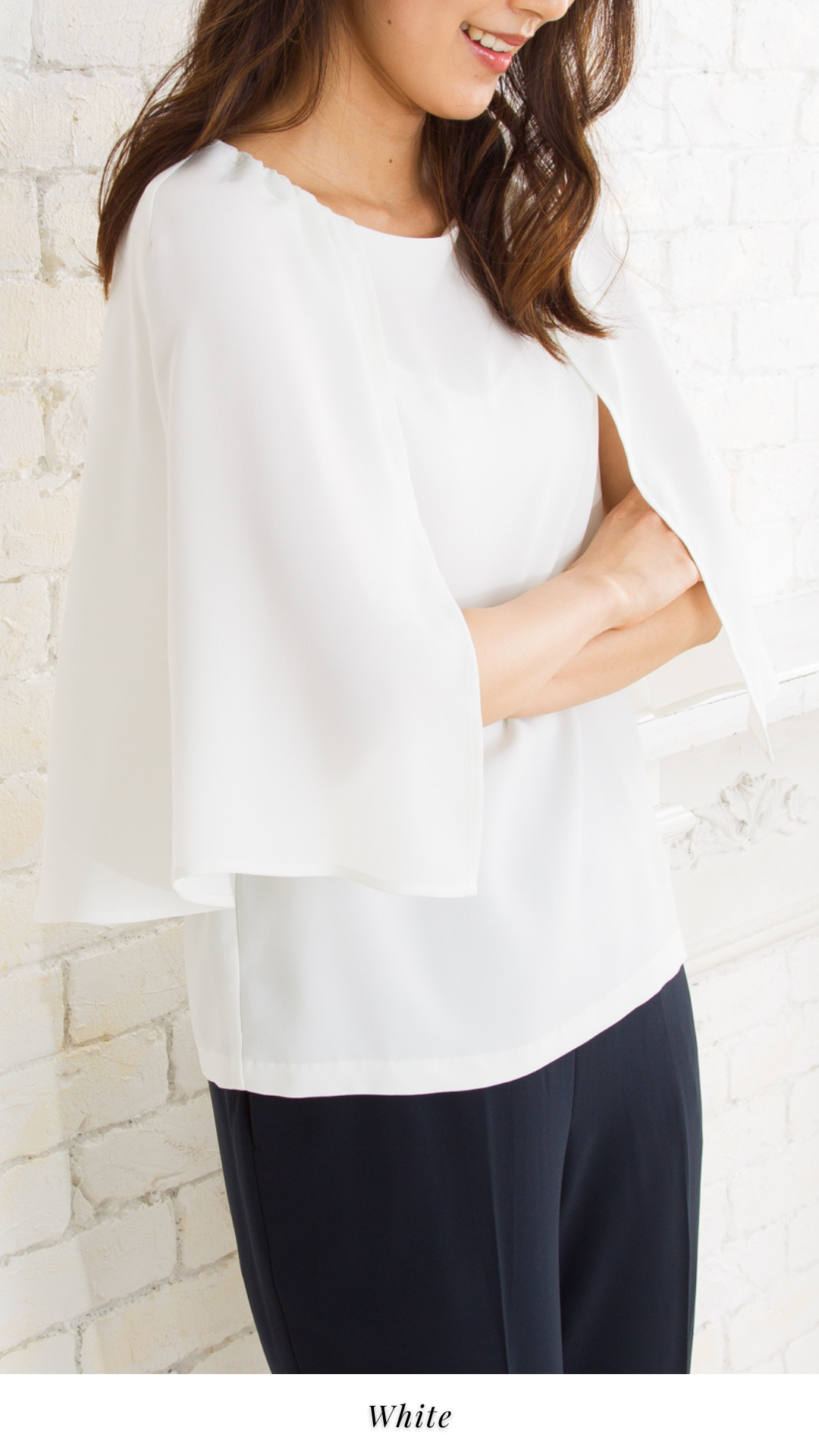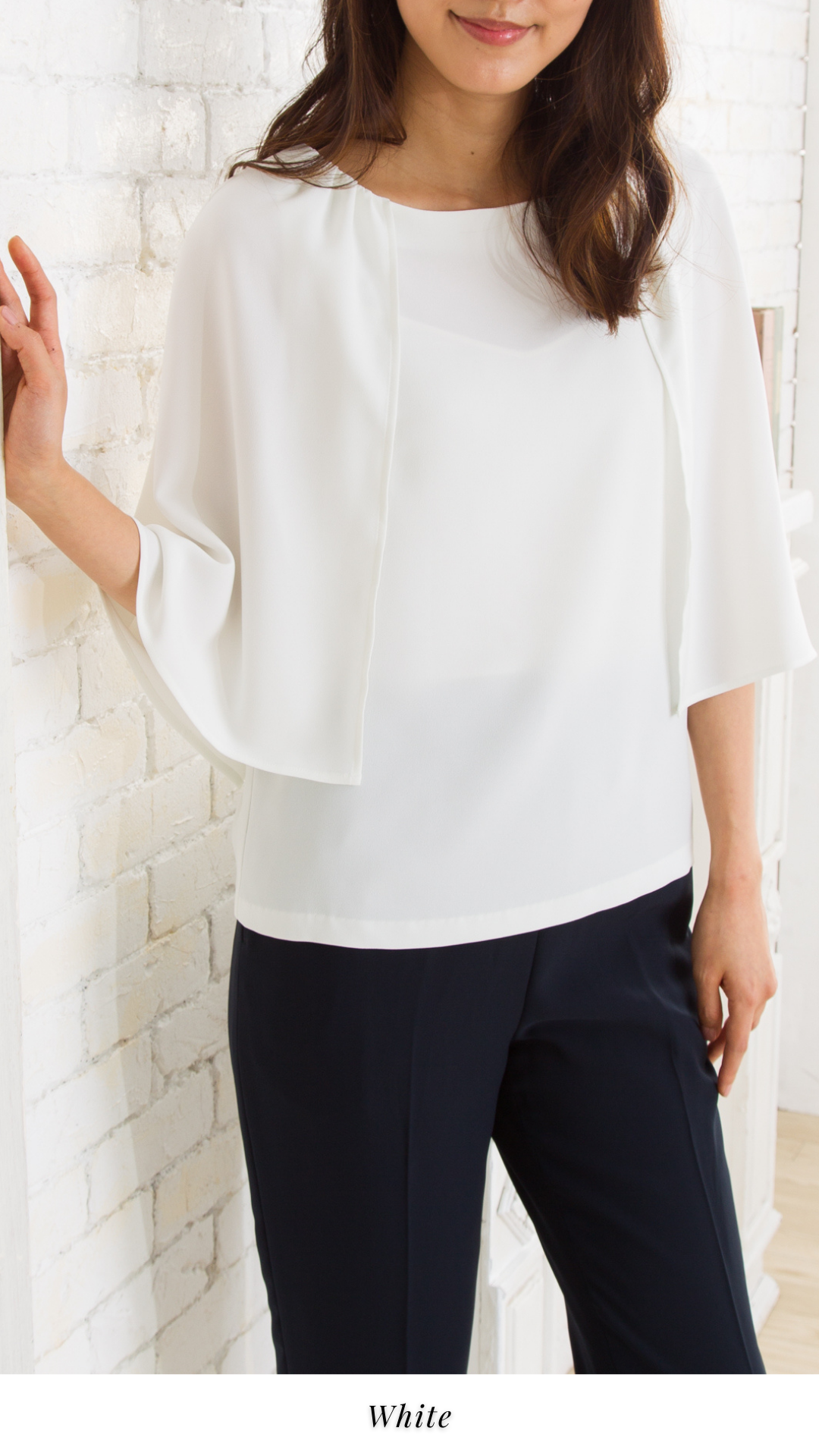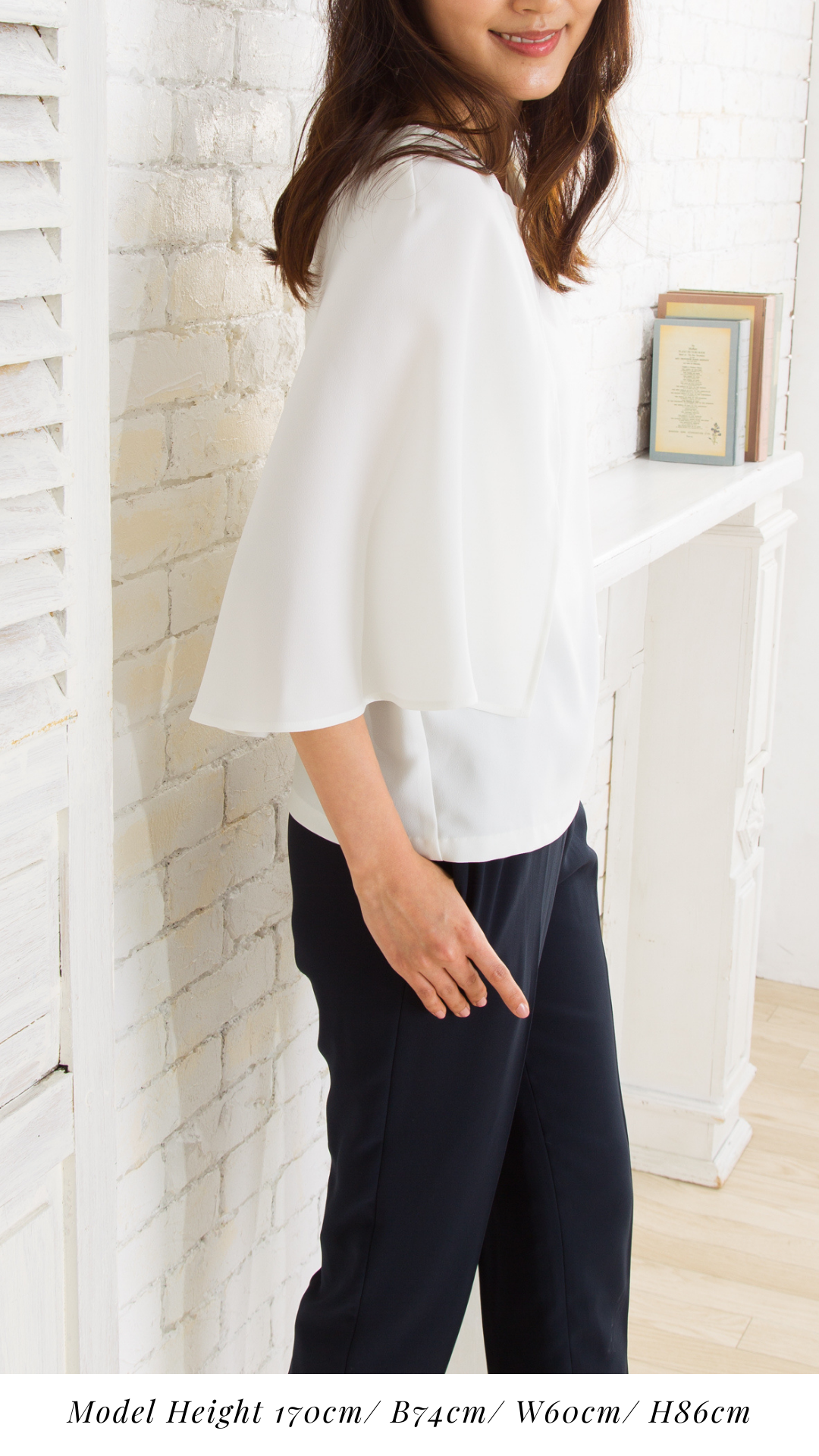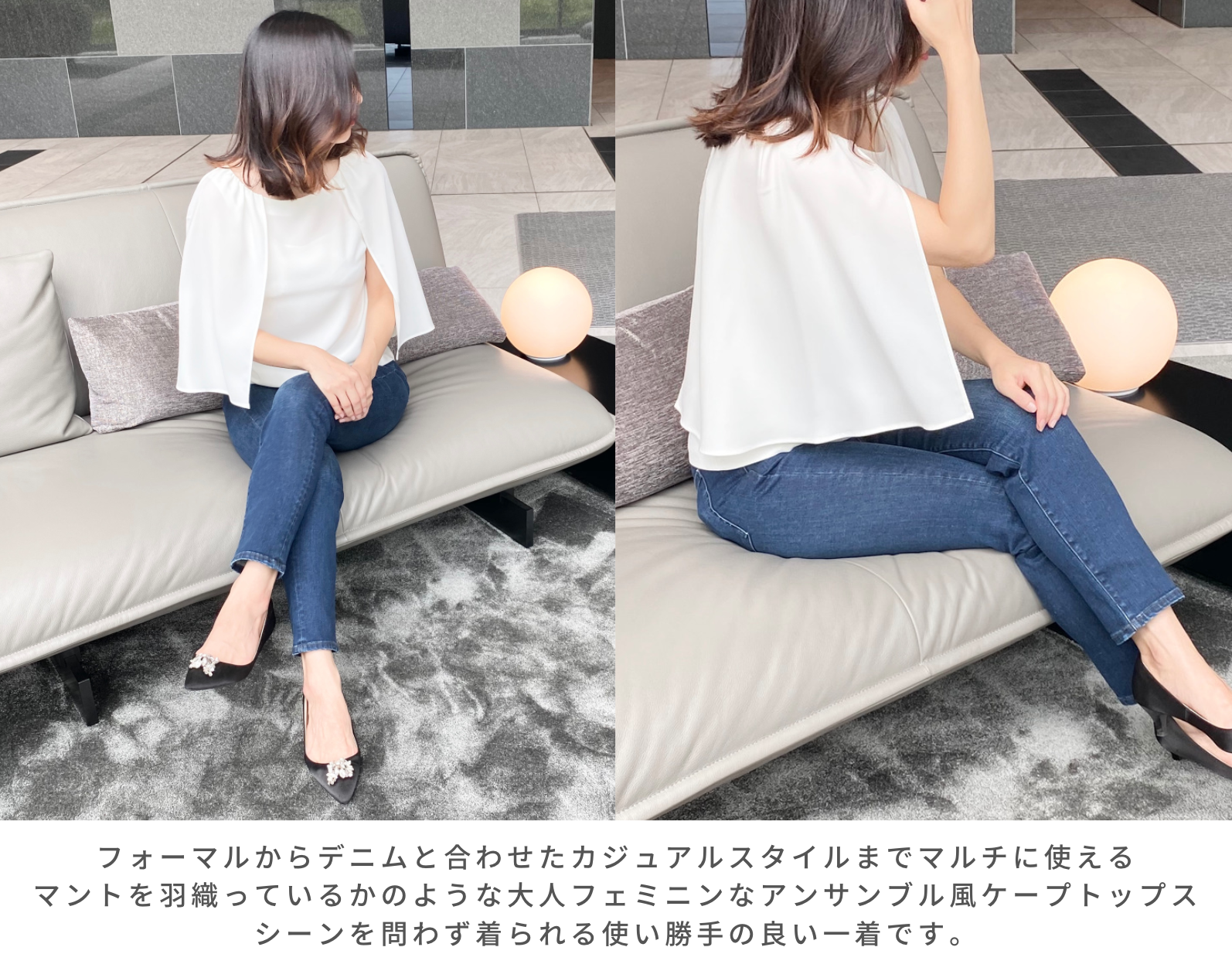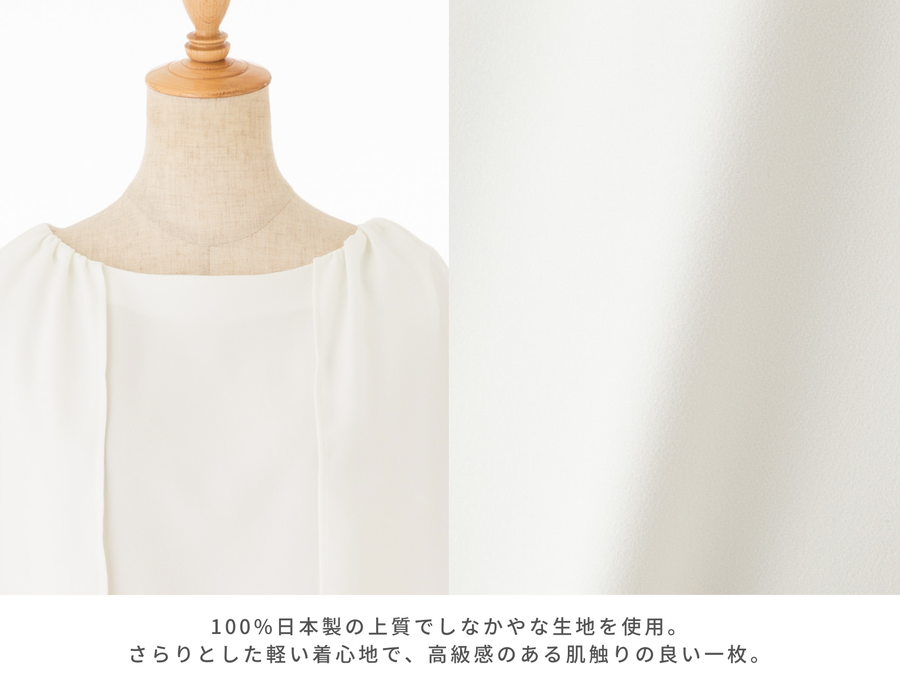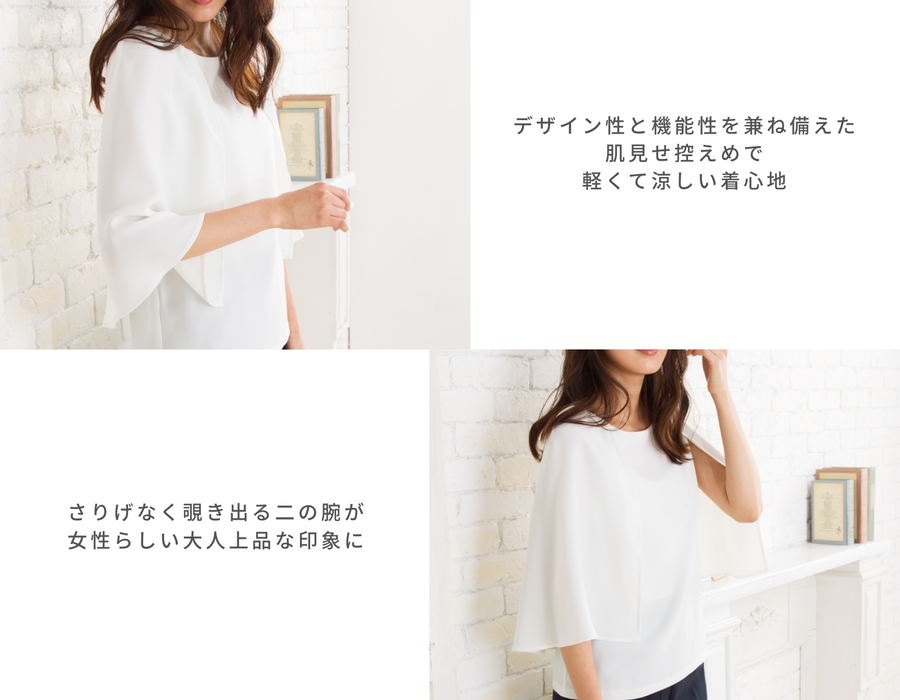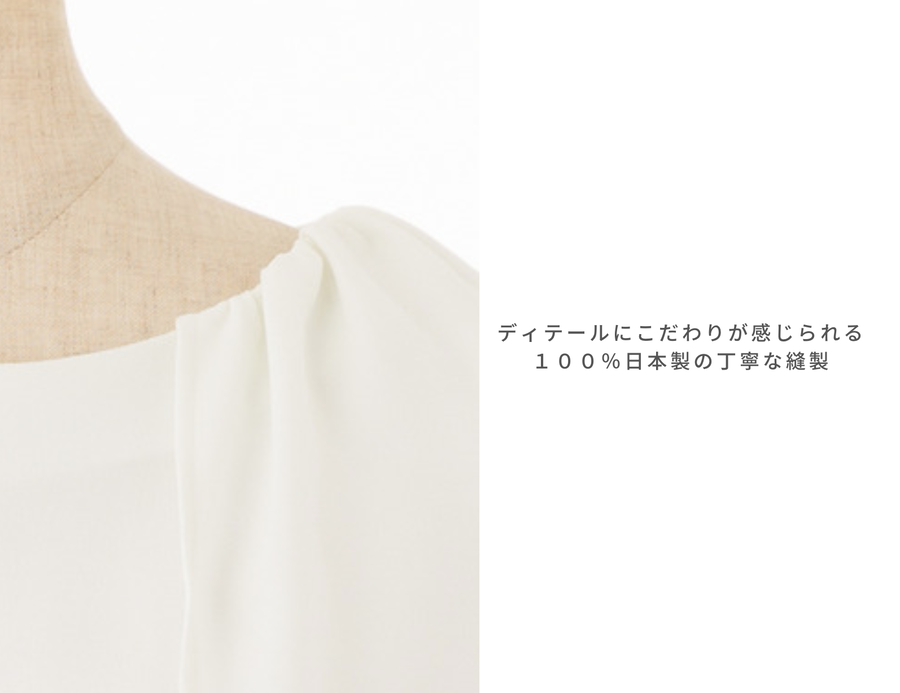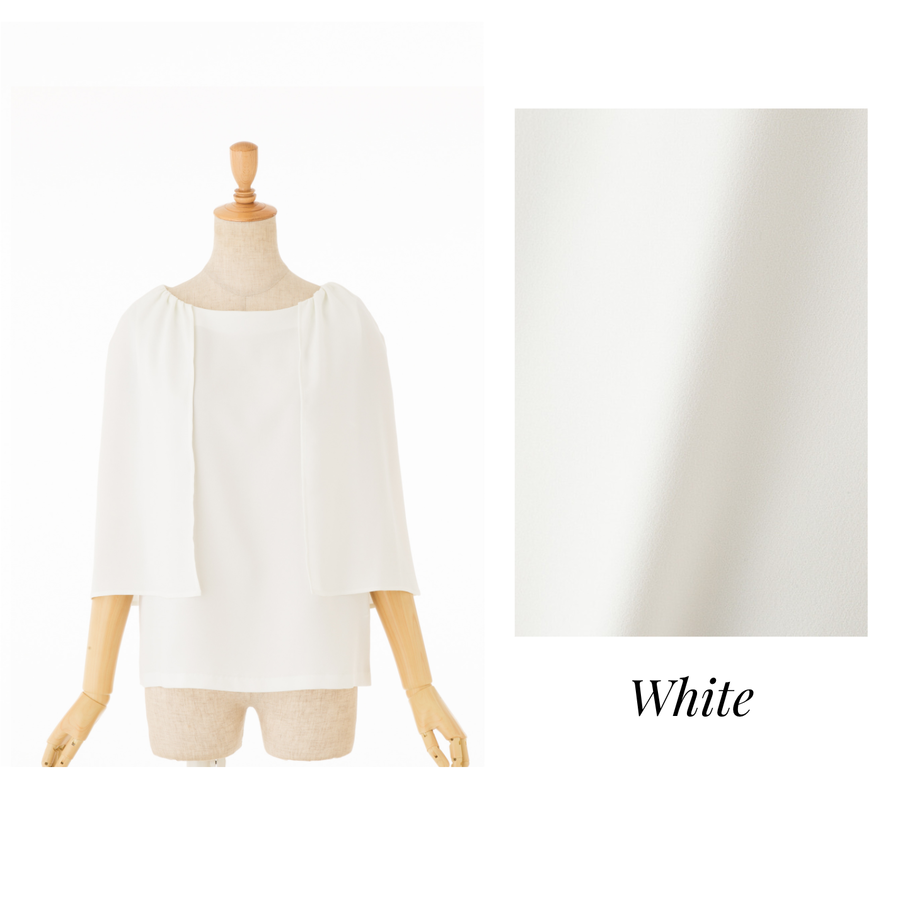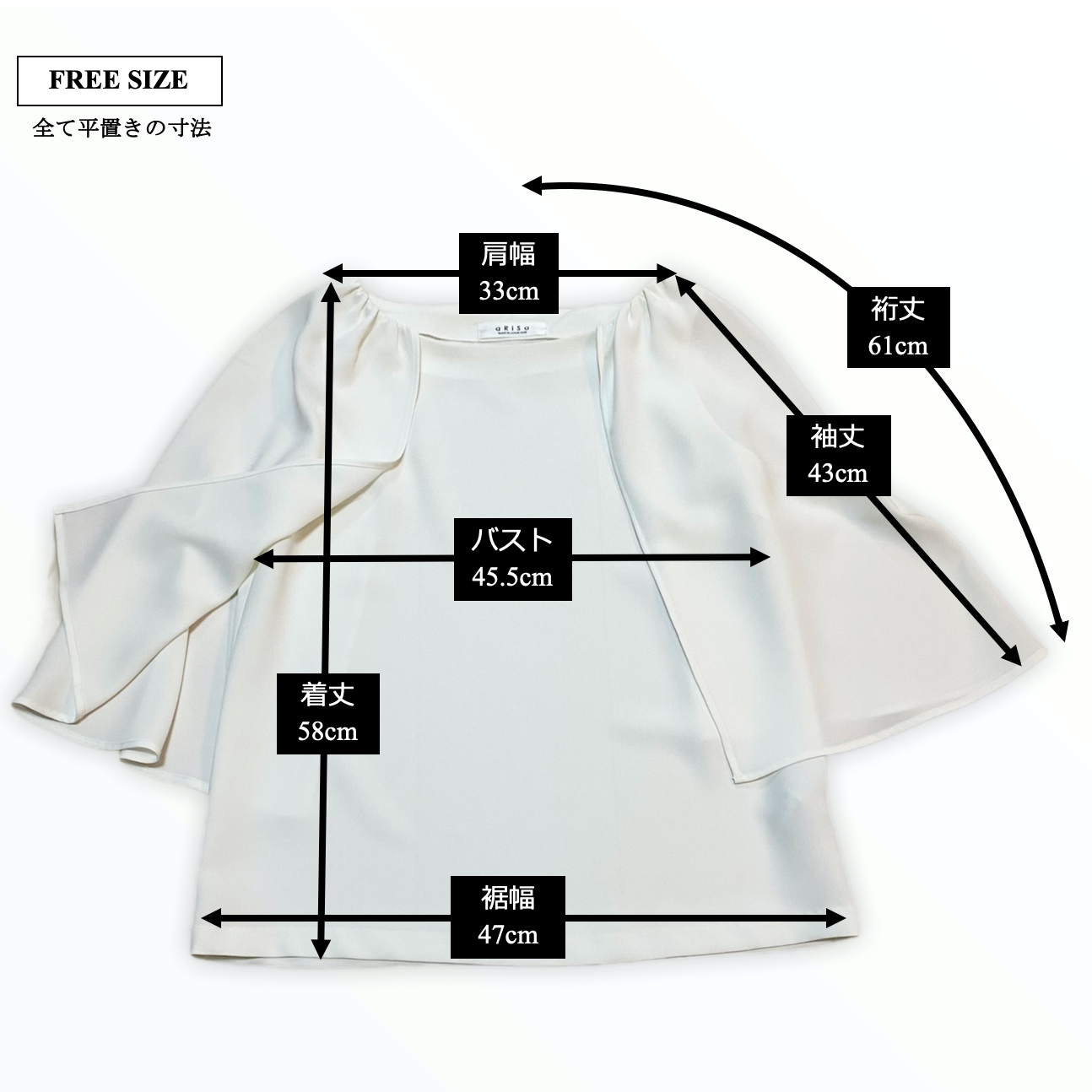 Reviews

(17)

Shipping method / fee

Payment method